Aggregate quarry equipment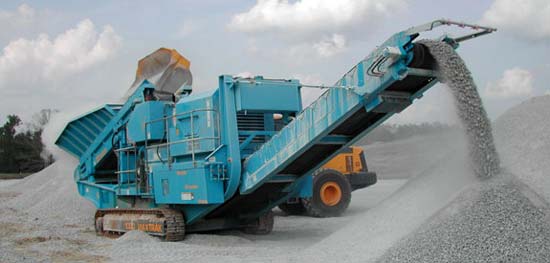 Aggregate quarry equipment are used for crushing rocks, stones like granite, limestone, marble, quartz into small pieces for construction building aggregates.
Aggregate quarry equipment type
In the aggregate quarrying plant, crushing, screening and feeding machine are the essential quarry equipment.
Stone crushing machine is the main Aggregate quarry equipment. SBM stone crushing machines have the capacity of 50-1000 tons per hour. It is a heavy-duty machine designed to crush stones and rocks of whichever nature, up to a size of approximately 30cm in diameter. SBM can offer jaw crusher for primary crushing, impact crusher or cone crusher for secondary crushing, hammer crusher and cone crusher for tertiary crushing.
Rock screening machine is another important aggregate quarrying equipment, is used for classification, separation and sieving. SBM can offer double, triple-deck screen for sale for aggregate production line. It is widely used to screen dry materials in ore dressing, building materials, water and power, light industry and building materials.
Aggregate quarrying plant
The complete aggregate quarrying plant consist of crushing, screening and transporting process. Aggregate crushing plant consists of vibrating feeder, heavy duty jaw crusher, small jaw crusher, impact crusher, VSI crusher, vibrating screen, vibrating grizzly feeder, conveyor belt and electric controlling system.
SBM aggregate quarrying plant is suitable to manufacture aggregate, from limestone, marble, quartz sand, sandstone, basalt, granite, river stone and so on. The aggregate crushing plant can produce all sorts of concrete aggregates for construction, building, road, highway construction industry.
The aggregate quarry plant with production capacity is from 30 TPH to 1000 TPH. The final grain size the aggregates are usually in fractions of 40-70 mm, 20-40 mm, 5-20 mm (round holes) and manufactured sand in the 0-5 mm fraction.
Aggregate quarry equipment manufacturer
SBM is a professional aggregate quarry equipment manufacturer in China, and offer types of quarry equipment: jaw crusher, vibrating feeder, screen, cone crusher, belt conveyor and washing machine for aggregate quarrying plant in India, Pakistan, UAE, Saudi Arabia, Nigeria, Zimbabwe, Philippines, and South Africa. SBM also design the whole aggregate quarry system for the stone crushing and screening plant.
SBM Aggregate quarrying plants with crushing and screening process are used to process sand, gravel and rock for specific markets. The complete aggregate quarrying units included in the aggregate crushing plant category are washers, screens, and classifiers to segregate particle sizes; crushers to reduce oversized material; and storage and loading facilities
Related Machine