SBM Production Line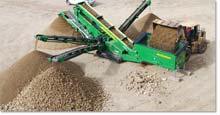 Stone crushing plant is a basic crushing plant that is used for crushing stones or gravels into our required particle size. According to the differents of stones, we can divide stone crushers into marble crusher, quartz crusher, limestone crusher, granite crusher etc. Every crusher has their own character. The complete stone crushing plant includes primary jaw crusher, secondary impact crusher, thin cone crusher, belt conveyor, and vibrating screen. We also can design the special crushing plant, according to your requirements.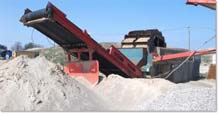 Sand is essential buiding materials for construction. But natural sand can not meet demand of market. SBM supplies a complete artifical sand making plant. Artifical sand making from it is fully suitable for architectural requirements. According to the your requirements, the capacity of sand making plant can be adjusted. VSI5x crusher is the newest manufacturered sand making machine, it can make the final sand gravel cubic.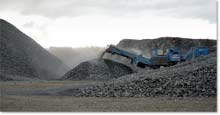 Ore is the stone contains metal. In order to get the metal, we must refine the ore. Ore processing is a complexed process, but crushing is the first step. Crushing plant is used to crush the big ores into small pieces for further process. SBM can supply all kinds of crushers, such as copper crushers, manganese crushers, iron ore crusher, bauxite crusher and other ore crushers. Ore grinding is another important process in the ore beneficiation plant. SBM provide ball mill, hammer mill and other mineral ore grinding mills for milling process.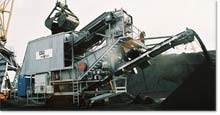 Coal is the important energy resource. We use it in steel-making, power plant, fuel etc. Coal production is various. Coal crushing is essential process in coal processing. The complete coal crushing plant contains jaw crusher, cone crusher, and impact crusher. Sometimes in order to get coal powder, we need coal mill to grind coal into powder. What usually used is ball mill, vertical mill, ultrafine mill.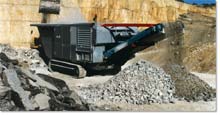 Concrete is essential buiding materials. In order to get concrete, you must get aggregate first. The concrete crushing plant is essential concrete equipment. According to the different of stones and your requirements, SBM supplies different concrete crushers. Concrete crusher is not only used to get concrete, but also used to crush asphalt concrete waste. Mobile concrete crusher is the most advanced concrete recycling equipment. After using it, you will know the advantages.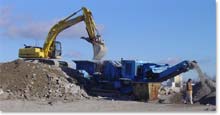 Construction waste is anything generated as a result of construction and then abandoned, regardless of whether it has been processed or stockpiled. Using crushing equipments, we can make the construction waste, Construction debris to buiding materials. Thus, it can not only avoid resource-wasting, but also protect the environment.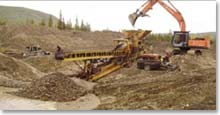 Gold is very precious metal. Mining gold is a complexed progress. In order to get gold, we must crush the gold ore. So we need crushers. Jaw crusher is the most common crusher of gold mining equipments. South Africa is the country that is abound in gold ore. At there, SBM has several gold crushing plant.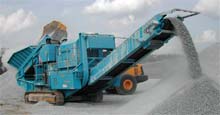 Stone quarry plant including limestone quarry, marble quarry and granite quarry is used for crushing stone, rocks, mine ores into small pieces for building aggregates, and sand gravel production. The whole stone quarry plant consist of tracks, drilling machine, grizzly feeder, rock crushers, vibrating screen, belt conveyor and washing machine.