Impact Crusher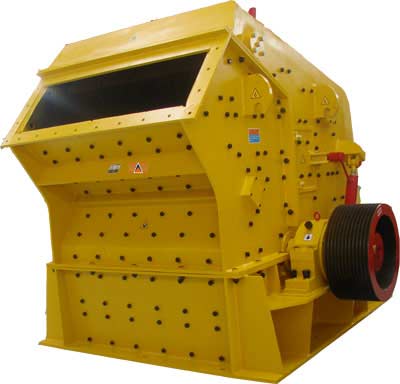 Impact Crusher is a new stone crusher machine that absorbs advanced technologies at home and abroad. Dealing with the material with the side length 500mm, not more than 350Mpa anti-pressure strength. The Crusher can be widely used in the primary and secondary crushing process.
Impact Crusher Parts
Impact crusher mainly consist of two Impact plates, one is fixed Impact plate, the other is movable Impact plate. In addition, there are flywheel, toggle plate whose application is to protect Impact plate, tension rod used to adjust the size of discharging open, Hammers and blow bar with Manganese Steel.
Impact Crusher Application
Impact crusher is used in secondary crushing process in stone crushing plant and mine ore processing plant. It is a fine crusher machine with large capacity 250 TPH.
Impact crusher for construction building materials:
Impact crusher is widely used in stone crushing plant and sand making production line for construction building materials. It can crush big stones or rocks such as quartz, basalt, shaly, kaolin, limestone, marble etc into small size for building aggregates or manufactured sand.
Impact crusher for ore beneficiation plant:
It is also widely used in mineral ores beneficiation for crushing and purifying. It can crush iron ores, copper ores, manganese ores and gold ores into samll particles for further processing.
Impact Crusher Main Features and Benefits
unique simple structure, keyless connection, easy maintenance
high-chromium plating hammer and special impact liner plate
capable of highly efficient hard rock crushing while saving energy
The Final product is in the shape of a cube, the discharge grain size is adjustable to simplify the crushing circuit.
Reliable performance
Impact crusher Specification
| | | | | | |
| --- | --- | --- | --- | --- | --- |
| Type | Spec. | Feeder Opening (mm) | Feeding Size (mm) | Crushing Capacity (t/h) | Motor Power(KW) |
| PF-1010 | Φ1000×1050 | 400×1080 | 350 | 50-80 | 55-75 |
| PF-1210 | Φ1250×1050 | 400×1080 | 350 | 70-120 | 110-132 |
| PF-1214 | Φ1250×1400 | 400×1430 | 350 | 130-180 | 132-160 |
| PF-1315 | Φ1320×1500 | 860×1520 | 500 | 160-250 | 180-260 |
Impact Crusher Manufacturer
SBM is a impact crusher manufacturer in China, and provides pf impact crusher, mobile impact crusher for sale with spare parts in India, Zimbabwe, Ethiopia, Libya, Egypt, USA, Venezuela Peru, UAE, Kenya, South Africa and Tanzania. SBM also design impact crusher plant coupled with sieving system used for feldspar crushing, silica sand mining, coal preparation plant.
Attachment:


Impact Crusher PDF Download
Contact E-mail: [email protected]