Hydraulic Cone Crusher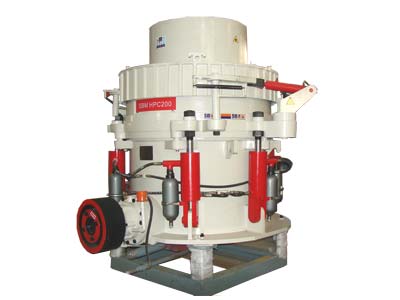 HP series hydraulic cone crusher designed by SBM is a new type with up-to-the-minute technology of Germany. It not only improves the production capacity and crushing efficiency, but also widens applying fields, hardness range of materials from limestone to basalt. This cone crusher is the most ideal crusher equipment for large-scale stone crushing factory and mining industry used for crushing stones into 6-10 mm size with capacity 120t/h - 500TPH.
Cone Crusher Parts
Hydraulic Cone crusher mainly consist of two Cone plates, one is fixed Cone plate, the other is movable Cone plate. In addition, there are three protecting equipment such as protecting oilcan, locking oilcan, and hydraulic driving oilcan. They are not only protect the crusher machine, but also could deal with troubles with disassembly the parts.
Cone Crusher Application
HP series hydraulic cone crusher with high-efficiency and hydraulic pressure is widely used in mine ore mining, cement plant, sand& stone quarry industry.
Hydraulic cone crusher for limestone crushing: In the limestone crushing plant, it is used as fine crusher machine for limestone powder. It also can be used as other stone crusher machines for small size making, such as aggregate cone crusher.
Hydraulic cone crusher for gold ore mining: In the mine ore mining project, such as gold ore crushing plant, it is used to crush gold ores into small size or powder.SBM can offer hp 220, hp 400 cone crusher for sale for gold mine.
Cone Crusher Main Features and Benefits
HPC Series Hydraulic Cone Crusher has a better performance compared with spring and ordinary Hydraulic type, Its features and benefits are as follows.
The successful combination of high performance crushing cavity and high crushing frequency enhance the capacity, plus the application of sink crushing principal, most of the product shaped cubical size, which sharply reduce needle-shape materials.
It features simple structure, easy maintenance, convenient adjustment of the size of final products, especially the quick replacement of plate reduce the time to stop the cone crusher machine.
Cone Crusher working principle
The crushing principle is finished between fixed cone plate and movable cone plate. The motor drives the horizontal axis of the crusher through triangle belt and pulley, the horizontal axis drive the eccentric shaft bush to rotate through gear transmission. The eccentric shaft drives the main shaft to make the movable cone plate swing at a regulated track from time to time, the materials are crushed due to constant pressed and crooked in the crushing cavity. The finished products are discharged from the discharging opening.
Cone crusher Specification
Model
Cavity(coarse/fine)
Discharge setting min.(mm)
Capacity(t/h)
Motor Power(kW)
Movable cone diameter(mm)
HPC-160
425
50-100
45-80
55
500×750
425
50-100
45-80
55
500×750
HPC-220
500
65-160
70-120
55-75
6000×900
630
80-140
130-260
110
750×1060
HPC-315
750
95-165
220-380
110-132
900×1200
850
195-265
230-380
132
1000×1200
HPC-400
1020
150-300
400-800
160-220
1200×1500
250
25-105
20-90
55-75
300×1300
Note: This specification is just reference, any changes are subject to the Cone crusher products.
Attachment:


Cone Crusher PDF Download
Contact E-mail: [email protected]