Belt Conveyor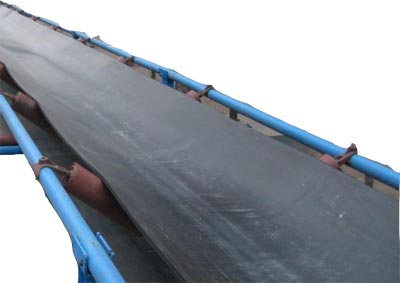 Belt conveyor consists of two or more pulleys, with a continuous loop of material - the conveyor belt - that rotates about them. One or both of the pulleys are powered, moving the belt and the material on the belt forward. Belt conveyor produced by SBM has the strong points of large conveying amount, simple structure, easy maintenance, high standardization degree etc.
Belt Conveyor Application
Belt conveyor for stone quarry
In stone quarry, it is used to transport crushed stones to next process. It can connect crushers, grinding machines and screening machine together to make the complete stone crushing plant.
Belt conveyor for coal
In the thermal power plant and other coal processing plant, it is the main machine in the conveyoring system. It is used to transport coal into another coal processing machine.
Belt Conveyor Operating Note
The size of stone must be moderate, can not be too big
Production should be uniform
According to stone, use the different belt conveyor
According to the angle, adjusting transmission speed
Belt Conveyor systems working principle
Belt conveyor systems is generally fairly similar in construction consisting of a metal frame with rollers at either end of a flat metal bed. The belt is looped around each of the rollers and when one of the rollers is powered (by an electrical motor) the belting slides across the solid metal frame bed, moving the product. In heavy use applications the beds which the belting is pulled over are replaced with rollers. The rollers allow weight to be conveyed as they reduce the amount of friction generated from the heavier loading on the belting. Belt conveyor can now be manufactured with curved sections which use tapered rollers and curved belting to convey products around a corner.
Belt Conveyor Specification
Belt Width(mm)
Belt Length (m) / Power (Kw)
Belt Speed(m/S)
Capacity(t/h)
400
≤12/1.5
12∽20/2.2∽4
20∽25/3.5∽7.5
1.3∽1.6
40∽80
500
≤12/3
12∽20/4∽5.5
20∽30/5.5∽7.5
1.3∽1.6
40∽80
650
≤12/4
12∽20/5.5
20∽30/7.5∽11
1.3∽1.6
131∽323
800
≤6/4
6∽15/5.5
15∽30/7.5∽15
1.3∽1.6
278∽546
1000
≤10/5.5
10∽20/7.5∽11
20∽40/11∽12
1.3∽2.0
435∽853
1200
≤10/7.5
10∽20/11
20∽40/15∽30
1.3∽2.0
655∽1284
Note: This specification is just reference, any changes are subject to the Belt Conveyor products.
Belt conveyor supplier
SBM is a construction and mining equipments manufacturer in China, and offer types stone crusher, grinding mills, feeder, screen, washing machine and belt conveyor with best price for sale. SBM also design belt conveyor system for coal handling plant, stone crushing, sand making in quarry, mine ore mining plant and cement grinding plant in India, Pakista, China, South Africa, America, Mexico, Algeria, Dubai, Iran, Sri lanka, Ethiopia.
Attachment:


Belt Conveyor PDF Download
Contact E-mail: [email protected]