Vibrating Feeder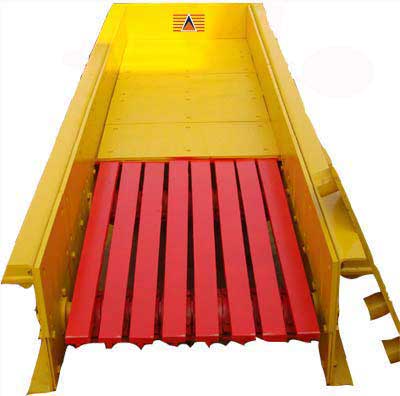 Vibrating Feeder is a kind of linear direction feeding equipment, and is designed to withstand the toughest work in a quarry or mine mining applications.
SBM designed vibrating feeder particularly for continuous use with any hard stone and abrasive materials through uniform flow. It works to continuously and evenly feed lump, particle and powdered materials from hopper to belt conveyer, bucket elevator, screens and crushing machines, etc. Step less regulation is available for to automatically and centrally control the feeding volume.
Vibrating Feeder Parts
Vibrating feeder consists of vibrating frame, spring, vibrator, motor vibrating device and motor. The vibrator is made of two fixed eccentric shafts whose gears are jogged. When installation, the two gears must be jogged according to the sign.
Vibrating Feeder Application
Vibrating Feeder can continuously and evenly send materials to crusher and roughly screen them. It matches crushing and screening machines in many areas such as metallurgical industry, coal mining, mining-selecting, building, chemical and grinding industry, etc.
Vibrating feeder for stone crushing plant
It is used in large stone quarry or mine ore mining plant. In the stone crushing plant, specially large scale crushing plant, it is the essential stone quarry machine used to feed the rocks into crusher machine evenly. In the mine ore mining plant, electromagnetic vibrating feeder is used to separate the iron ores.
Vibrating feeder for coal
It is motorized feeder machine used in coal mining in Indonesia. In the coal crushing plant, It work with belt conveyor, screen and crusher to break coal into small size for further grinding process.
Vibrating Feeder Main Features and Benefits
Highest capacity for the same deck size in industry
Sub-resonance tuning to guarantee efficient, continued operation as deck liners wear
simple structure, easy to adjust and to maintain.
Infinite variety of sizes and custom configurations, typically up to 600 t/h to suit your requirement
Closed frame for largely reduce pollution and noise.
Vibrating Feeder working principle
Through drive of the motor, the two eccentric shafts start rotating to produce a linear huge power which forces the feeder to vibrate. Through the vibration, The materials will slip and sling on the funnel, moving forward, when the materials pass the screening part, smaller parts will fall down, avoiding the further crushing, so screening purpose can be reached.
Vibrating Feeder Specification
| | | | | | |
| --- | --- | --- | --- | --- | --- |
| Model | Max input size(mm) | capacity (t/h) | motor power (kw) | Installaition Slope | Size of Funnel (mm) |
| GZD-180×80 | 300 | 30-80 | 2×1.5 | 0-10 | 1800×800 |
| GZD-300×90 | 500 | 40-100 | 2×2.2 | 0-10 | 3000×900 |
| ZSW-380×96 | 500 | 90-100 | 11 | 0° | 3800×960 |
| ZSW-490×96 | 500 | 120-240 | 15 | 0° | 4900×960 |
| ZSW-490×110 | 580 | 120-280 | 15 | 0° | 4900×1100 |
| ZSW-590×110 | 600 | 280-500 | 22 | 0° | 5900×1100 |
| ZSW-600×130 | 750 | 400-560 | 22 | 0° | 6000×1300 |
Note: This specification is just reference, any changes are subject to the Vibrating Feeder products.
Vibrating feeder manufacturer
SBM is a professional vibrating feeder supplier in China, and offer types of vibratory grizzly feeder for sale with best price for stone crushing, sand making and mine ore mining plant. SBM also design vibrating feeder for stone quarry in south Africa, India, Nigeria, Chile, UK, USA, Kuwait, Vietnam, Indonesia, Iran, Mexio, the Philippines, Pakistan, and Zimbabwe.
Attachment:


Vibrating Feeder PDF Download
Contact E-mail: [email protected]