Sand making machine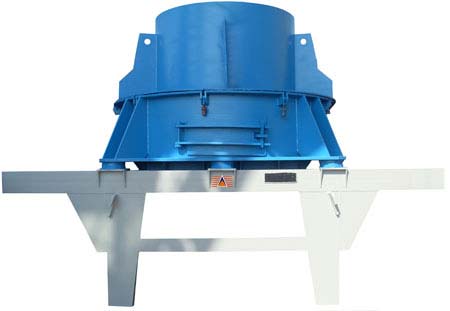 PCL vsi crusher, is a high-power and low-consumption Sand Making Machine, and designed depending on several years' hard work and study of mechanical mining equipment.
Sand making machine Application
PCL vsi crusher is mainly used in sand making production line, and it has tow main purposes
Shapping
Sand making machine is constructed with an exclusive combination of features that provide complete cubical shape of the crushed product, gradation control, and high production yield. For getting cubical crushed sands, PCL vsi crusher should be used as secondary crusher.
Making sand
PCL vsi crusher is used for artificial sand making purpose. It is used in fine and medium size crushing of coarse material, rocks, stones, minerals, building aggregate concrete and other material. Artificial sand and aggregate is used in preparing good quality concrete for building and construction purpose, so the final product must be cubic with grounded edges. PCl vsi crusher is unbeatable in making a consistence cubicle particle shape.
Sand making machine Main Features and Benefits
Simple structure and low operating cost
High efficiency and low consumption
PCL vsi crusher has the function of fine crush and crude grinding
Slightly influenced by the moisture content of material, and the max moisture content is 8%
More suitable for crushing mid-hardness and high-hardness materials
Cubic shape of final products, high density of piling up and low iron pollution.
Better cubical particle shape of the final products is the outstanding feature when compared to compression machines such as cone crusher. PCl VSI crusher has been proved revolutionary in capacity improvement and in expense cut of operation & wear parts.
More wearable and easy maintenance
Low working noise(lower than 75 decibel) and light dust pollution
Sand making machine Working principle
The Whole Sand making machine including feed hopper, classifier, whirl pool cacity, impeller, main bearing assembly base, transmission device and motor etc.
Working pinciple is as follows: the materials enter the crusher through feeder hopper, is divided into two parts. one part go through the middle of classifier entering into the rotating impeller at high speed, then accelerated, whose speed can reach hundreds of acceleration. Under great centrifugal force,it is shot through the tunnels around the impeller by the speed of 60-75 meter/second. First the materials will impact with some materials fallen around classifier, then impact on the whirlpool cavity's scaleboard together, then will be rebounded and impact on the top of the whirlpool cavity, then changs its direction and goes down, forms continual material layers with the materials shot from the impeller. Therefore some materials will be impacted, crusher, milled twice or more times in the whirlpool cavity, then crushed matetials will be excluded through the bottom discharging hole. This can from a closed circulation through the circular classifier system. Finally smaller stone comes out, and goes to vibrating screen. Satisfactory material is transported to sand washing machine, however overlarge material will go back to sand maker to be refreshed.
Output sizes can be made according to customers requirement. If input size is larger than the designed size, other crushing equipment will be necessary. in general, materials can be crushed into 20 mesh through thrice circulation. Airflow self-circulation in the whirlpool cavity can eliminate the dust pollution well.
Sand making machine Specification
| | | | | | |
| --- | --- | --- | --- | --- | --- |
| Model | Max Feed Size (mm) | Power (Kw) | Rev. of Impeller (r/min) | Capacity (t/h) | Overall Dimension (mm) |
| PCL-600 | 26 | 45-60 | 2000-2600 | 8-50 | 3300*1500*2050 |
| PCL-750 | 35 | 75-90 | 1500-2500 | 25-55 | 3300*1800*2440 |
| PCL-600B | 26 | 45-90 | 2000-2600 | 8-50 | 3500*1500*2050 |
| PCL-900B | 40 | 110-180 | 1000-1450 | 60-150 | 3600*2140*2620 |
| PCL-1050 | 45 | 200-220 | 1000-1700 | 100-160 | 4480*2450*3906 |
| PCL-1250 | 60 | 220-360 | 950-1200 | 100-200 | 4520*2640*3100 |
| PCL-1350 | 60 | 320-440 | 800-1200 | 160-360 | 5300*2900*3200 |
Note: This specification is just reference, any changes are subject to the PCL-VSI Crusher products.
Common Faults and exclusion method of vsi crusher
Swing of the vsi crusher is too large, the reason is severe wear and tear of wearing parts, what you should do is replacement of wearing parts in vsi crusher. The reason is also feed particle size of vsi crusher is too large, you must reduce the feed size.
Product particle size of vsi crusher is too large, the reason is too loose V-belt. The exclusion method is to tense it.
Metal touching voice in the vsi crusher, the reason is wearing parts of liner or impeller off. The method is to re-tighten them.
Attachment:


PCL-VSI Crusher PDF Download
Contact E-mail: [email protected]