Spring Cone Crusher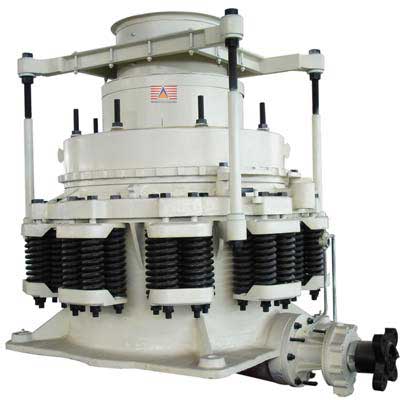 Spring cone crusher is the earliest crusher used in construction and mining industry. It can work with vibrating feeder, screen and other crushing equipment to make up the complete cone crusher plant. The crushing capacity is from 50 t/h to 750 tph with output size 10-30mm.
The standard spring cone crusher is used for intermediate crushing; the medium crusher is used for fine crushing; and the short head crusher is used for super thin crushing.
Spring Cone Crusher Parts
The spring cone crusher consists of frame, transmission device, hollow eccentric shaft, bowl-shaped bearing, crushing cone, springs and hydraulic pressure station for adjusting discharge opening.
Spring Cone Crusher Application
Spring cone crusher is widely used fine crushing machine to crush many kinds of mid-hard or hard rocks and ores such as iron ore, limestone, granite, basalt, quartz etc. It also work with grinder mill used in sand making, cement grinding, concrete recycling and ceramic industry. The crushing capacity is different, large crusher can up to 500TPH - 700t/h. While the small crusher can be 10 t/h - 50 tons/h.
Spring Cone Crusher Main Features and Benefits
High productivity; high quality
Fewer spring conr crusher machine down time
Easy maintenance with low cost
Unique crushing ability in primary, secondary and tertiary crushing
Advanced safety system. The safety system acts as an overloading protection system that allows metal to pass through the crushing chamber so as not to damage the spring cone crusher. The safety system uses dry oil and water as two kinds of sealed formation to make plaster powder and engine oil separate to make sure reliable performance.
Spring Cone Crusher working principle
The spring cone crusher crushes materials by the working surface between the movable cone and fixed cone. So it is more advanced and efficiency efficient than jaw crusher. The movable cone is supported by spherical bearing and fixed on an hanging erect shaft which is set in the eccentric sleeve, and the sleeve is set on the stopping and pushing bearing. The movable cone and erect shaft are driven by the eccentric shaft sleeve together. The eccentric shaft sleeve is driven by horizontal shaft and fimbriated gear, and the wheel of the conveyor belt is driven by motor through v-belts. The lower part of vertical shaft is installed in the eccentric sleeve. When the eccentric sleeve rotates, there is a conical surface lined out by the shaft. When the movable cone comes near the fixed cone, rocks are grinded into pieces, when the movable cone leaves, grinded materials is discharged from the discharge hole. The fixed cone can be ascended or descended by adjusting setting to adjust the width of discharge hole, consequently the output size is determined adjusted.
Spring Cone crusher Specification
Model
Max. Feed Size(mm)
Adjustable range of Discharging Opening (mm)
Capacity (t/h)
Motor Power (kW)
diameter at big end (mm)
PYB
900
115
15-50
60-105
55
Ф900
PYZ
60
5-20
50-90
PYD
50
3-13
15-50
PYB
1200
145
20-50
110-168
130
Ф1200
PYZ
100
8-25
42-135
PYD
50
3-15
18-105
PYB
1750
215
25-50
280-480
160
Ф1750
PYZ
185
10-30
115-320
PYD
85
5-13
75-230
PYB
2200
300
30-60
590-1000
260
280
Ф2200
PYZ
230
10-30
200-580
PYD
100
5-15
125-350
Note: This specification is just reference, any changes are subject to the Spring Cone crusher products.
Spring cone crusher supplier
SBM is a spring cone crusher supplier located in China, and supply types of cone crusher and grinding mills for sale used in stone crushing plant and mine ore processing plant in USA, south Africa, Lebanon, India, China, Korea, Ireland, Brazil, Spain, Malaysia, Orissa, Australia, and Germany. We also desing the complete fixed cone crushing plant and mobile cone crusher for cement grinding plant, iron ore crushind and gold ore mining plant. We also offer installation, maintenance and operation train of cone crusher.
Attachment:


Spring Cone Crusher PDF Download
Contact E-mail: [email protected]