Raymond Mill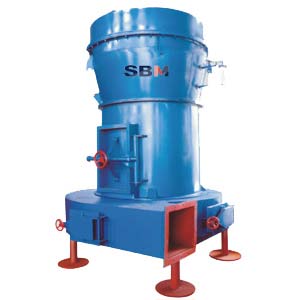 Raymond mill is a kind of new-typed moderating-speed stone powder manufacturing machine, which is developed on the basis of RP. It is getting perfect by low consumption, low investment, environment friendly, small occupation area, and more efficient than the traditional mill.
Raymond Mill parts
Raymond mill consists of motor, reducer, case, milling device, separator, outlet, coal feeding pipe, loading device, control box and sealing apparatus. The fittings are all of superior performance in the world at present.
Raymond Mill Application
Raymond mill for mineral ore grinding plant
Raymond mill is mainly applied to the powder processing in mine ore mining plant. It can produce powder from more than 280 kinds of non-flammable and non-explosive mineral materials with Mohs hardness below 7 and humidity below 6%. The final size is between 0.613mm—0.044mm(100 mesh to 325 mesh). In south africa, raymond mill is also used for gold processing plant. Raymond grinder mill is the optimal milling equipment in electric power, kaolin, coal and cement industries.
Raymond mill for calcium carbonate powder production line
In the calcium carbonate grinding plant, raymond mill is mainly used for grinding stones into powder. For example, in the feldspar grinding plant, it is used to grind crushed feldspar into powder whose fineness meet the requirement. In this grinding process, it can also achieve drying effect.
Raymond mill for dolomite powder manufacturing
In the dolomite powder production line, it is used as stone powder grinding machine for crushing stones into powder with 100 mesh and 300 mesh. In India, raymond mill is used with crushing machine for grinding dolomite stones into powder.
Main Features and Benefits
The whole raymond mill plant is a vertical structure of strong systematic characteristic, so it occupies small area. From crushing of raw material to grinding and packing is an independent production system.
Compared with other milling plants, passing ratio achieves 99%, which other mill can not reach.
Driving system of main frame adopts airtight gearing and pulley, drives smoothly and operates reliably.
The electric control system is centralized controlled, so the automaticity is high, no people are needed in the operating room.
Main parts of the whole plant are made from cast and steel of high quality. Such strict techniques insure the durability of whole plant.
Raymond Mill Specification
Model
Roller
Ring
Max. Feeding Size(mm)
Fineness of Product (mm)
Power for Machine (kw)
Number
Dimension (mm)
Height (mm)
Inner Diameter (mm)
Height (mm)
3R2115
3
210
150
630
150
15
0.044-0.165
15
3R2615
3
260
150
780
150
15-20
0.044-0.165
18.5
3R2715
3
270
140
830
140
15-20
0.044-0.165
22
3R3016
3
300
160
880
160
15-20
0.044-0.165
30
4R3216
4
320
160
970
160
20-25
0.044-0.165
37
5R4119
5
410
190
1270
190
20-25
0.044-0.125
75
Note: This specification is just reference, any changes are subject to the Raymond Mill products.
Raymond mill Manufacturer
SBM is raymond mill manufacturer in China, designed raymond mill by adopting German advanced milling technology, combining the characteristics of similar domestic products. SBM offer raymond mill with competitive price for sale for stone powder making industry in USA, Indonesia, Vietnam, India, Iran, Pakistan, Europe, Nigeria.
Attachment:


Raymond Mill PDF Download
Contact E-mail: [email protected]