Mine ore grinding mill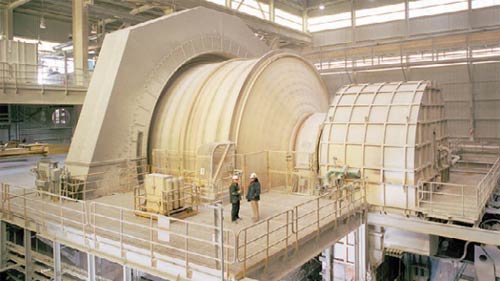 Mine ore grinding mill is the powder making machine used for grinding crushed mineral ores into powder. It work with crusher, screening machine and ore washer to make up the mine ore beneficiation plant.
Types of ore grinding mill
In the mine ore grinding plant, ore grinding mill grind crushed mineral material via belt conveyor. There are several types of grinding mills used as ore grinding machine.
Rod mill
Rod mill is the cheap mine ore grinding mill. It is designed for vast range of grinding applications, such as mining gold & other metals and in chemical and food industry. Rod mill uses smooth reinforcing bar or steel rods as the grinding medium to crush the ash, and provide the most simple, trouble-free and economical method of grinding. Rod mills are available with spiral-screen, configured for discharge trunnion, to provide material sizing and classification.
SAG mill
SAG mill is the autogenous mine ore grinding machine. SAG Mills are in the middle of the way, since they offer some room to engineer their product size by properly defining some critical process variables, such as feed size, ball charge and size, mill charge and speed. In general, a coarser SAG product will draw less power from the SAG Mill and more power from the Ball Mill, and conversely, a finer SAG product will draw more power from the SAG Mill and less power from the Ball Mill. Metal consumption analyses also have to be taken into consideration, for they typically account for 30% to 45% of the total grinding cost.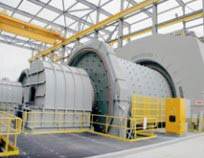 Ball mill
Ball mill is the most common mine ore grinding mill used for pulverizing mineral ores into small grains like iron ores, copper ores, bauxite ore and gold ores. Ball mill is designed for use in wet or dry Grinding operation, where a fine material grind of (-30mesh/ 0.4 mm) and finer, is required. In the mine ore grinding plant, installation multi-ball mill, the ore feed rate is at approximately 60% to enhance throughput.
Ultrafine mill
Ultrafine mill is the ultrafine powder ore grinding mill used for grinding mine ores into super powder. This ultrafine mill can be installed directly as the only powder grinding equipment in the whole grinding plant or it can be used as further-grinding machine after ball mill grinding or coarse powder grinding.
Comminution circuits correspond to the most costly operations in the context of mineral processing in general. According to the product size, capital and operating costs, design mine ore grinding circuits.
Mine ore grinding mill manufacturer
SBM is a famous mineral ore grinding mill manufacturer in China, and offer types of ore machines like ore crushers, ore screen, ore belt conveyor, ore washing and grinding machine for mine ore mining and processing plant.
SBM not only supply mine ore crusher and grinding machine for sale with best prices in Australia, Pakistan, Zimbabwe, Brazil, Kenya, Malaysia, USA, South Africa, Sudan, Tanzania, Sri Lanka, Iran, India, Indonesia, Chile and Zambia, but also design the complete mine ore processing plant for ore dressing project.