Iron ore crusher
Iron ore crusher is the main iron ore processing machine, used for crush mine ores into small pieces for refining.
Machinery used in iron ore crushing, screening, and grinding
Iron ore crusher
In the iron ore crushing plant, the most commonly used iron ore crushers are jaw crusher, impact crusher, cone crusher and mobile crusher.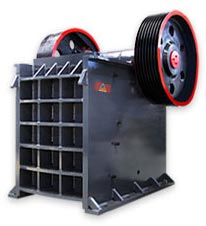 Jaw crusher for iron ore: Jaw crusher is used in primary crushing station. In the iron ore crushing plant, it can crush iron ore into small sizes. Thus, these small iron ore can enter into the iron ore ball mill for grinding.
Impact crusher is generally used as fine iron ore crusher after jaw crusher, and can crush iron ores into smaller size to separate ores from stones and sands. SBM offer PF impact crusher and hydraulic impact crusher for sale with best price for iron ore crushing plant.
Cone crusher is the most common fine iron ore crusher machine. It has four types: spring cone crusher, CS series cne crusher, hydraulic cone crusher, hcs90 cone crusher. Every cone crusher has their different applications.
Mobile crusher for iron ore crushing: Mobile crusher is the most convenient iron ore crusher machine used in the iron ore beneficiation plant. It is the crushing unit including crushing, screening machine and belt conveyor.
Iron ore Vibrating feeder and screening machine
Vibrating feeder is the machine used to feed iron ore evenly to iron ore crushing and grinding machine in iron ore processing plant. SBM can offer heavy-duty feeders and vibratory grizzly feeders for sale used in iron ore crushing plant.
Vibrating screen is the screening machine used in iron ore screening plant. It is used after iron ore crusher to screens out the appropriate iron ore particles, these particles enter into ball mill for grinding.SBM manufactures many styles of light, medium, and heavy duty vibratory screens. SBM offers both linear and circular motion screen models, as well as banana screens.
Ball mill is used as iron ore grinding mill. In iron ore concentrator, ball mill and regrinding ball mill is used to grind iron ore into fine powder.
Hammer crushers are widely used in small iron ore mine with small capacities. That's because in such situation, the cost and the difficulty of changing and maintaining worn hammers are more acceptable to the quarry owners. However, once the quarry owners want to enhance the capacity to above 50-60 t/h by one iron ore crushing plant, hammer crushers are no longer suitable. Using hammer crusher in large iron ore production line will lead to a passive situation of high consuming cost and frequent maintenance.
In iron ore mining process, miner usually choose the complete iron ore crushing plant for metallurgy. At present, the most popular iron ore production line consists of two jaw crushers used as iron ore crusher. After beening crushed, the iron ore will be transported to the magnetic separator for magnetic separation, and then into the ball mill for grinding.
Iron ore crushing plant
Almost all of the iron ore that is mined is used for making steel. So we need the extraction of a pure metal from its ore. The extract the metal from ores, several physical and chemical methods are used. The method used depending upon chemical properties and nature of the ore from which it is to be extracted. Iron ore crushing plant involves four main steps:
1. Crushing and grinding of the ore.
2. Concentration or dressing of the ore.
3. Reduction to free metal.
4. Purification or refining of the metal.
It's important to choose different iron ore crushers for different requirements. In order to achieve higher production efficiency, SBM design a more efficient iron ore crushing and screening process: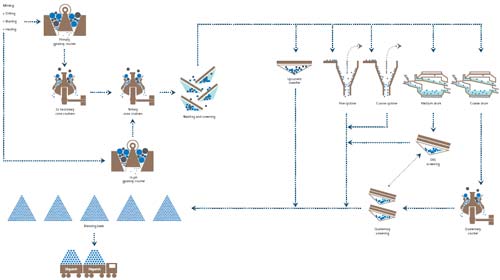 In the iron ore crushing plant, in order to make the size of iron ore materials as fine as possible before entering into milling machine, the iron ore crusher must have an excellent fine crushing capability to reduce iron ore size. To achieve this crushing effect, two grades of jaw crushers and one fine crusher (high thin breaker machine) are applied in the iron ore crushing process. Two types of jaw crushers are coarse and fine jaw crushers. Tertiary fine crushing machine is the key for the complete iron ore crushing plant.
Iron Ore crusher supplier
SBM is the professional iron ore crusher manufacturer in China, and supplies rock iron ore crushers and grinding mills for sale used in iron ore beneficiation plant. SBM also design the complete iron ore crushing plant with flow chart for iron ore deposits mining in Australia, Brazil, India, Russia, Mauritania, Mexico, Ethiopia, Malaysia, Mongolia, Philippines, Egypt, Sri Lanka, UAE, Liberia, Nigeria, Guinea, Angola, Indonesia, Zimbabwe, Sweden, Pakistan, South Africa, Saudi Arabia, USA, Uganda, Colombia, Canada, Iran, Ukraine and France.
Related Products
Mine ore mining