Copper mining equipment
Copper mining equipment is used for copper ore mine extraction. There are several types of copper ore extraction machine used in mining process.
Copper Crusher for crushing process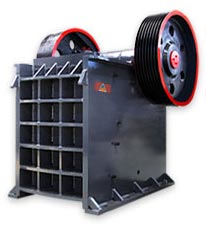 Copper ore crusher is used for crushing mine ore into small particle size for copper concentrate process. In the copper ore mining plant, when the copper ore is mined from the ground, it is loaded into a 300 ton truck for transport to the crusher.
The complete copper crushing plant includes jaw crusher as copper primary crusher, impact crusher and cone crusher.
Jaw crusher is used as coarse copper ore crusher for primary crushing process. Impact crusher and cone crusher are used in fine crushing process for crushing copper ore into smaller grains.
Mobile crusher is also widelys used copper crusher. It is a portable crushing plant. For copper crushing, mobile crusher is the most convenient crushing machine.
After crushed, the copper ore must be screened out according to size by screening machine and distribute the classified ore to a series of conveyors, for transportation to the mill for further processing.
In the copper ore grinding process, rod mill, ball mill and regrind ball mill are used as copper ore mill for grinding crushed copper ore mines into smaller size for processing.
Ball mill is the most common copper ore grinding mill in copper ore concentrator. It is an efficient tool for grinding copper ore into fine powder. There are two ways of grinding: the dry process and the wet process.
Floatation machine is the essential copper ore concentrator in the copper ore mining process. It is applicable for separating nonferrous metal, ferrous metal, noble metal, nonmetallic mine, chemical material and recycle mine. It features: high inhalation, low power. Each chute can inhale gas, sink magma, separate. There is no need of accessory equipments horizontal equipment. It is easy to change the flow chart.
Copper mining process
There are two distinct types of copper ore, the sulfide ore and the oxide ore. The sulfide ores are beneficiated in flotation cells, while the oxide ores are generally leached.
First the copper ore from a open pit mine is blasted, loaded and transported to the primary crushers. Then the ore is crushed and screened, with the fine sulfide ore (<0.5 mm) going to froth flotation cells for recovery of copper. The coarser ore goes to the heap leach, where the copper is subjected to a dilute sulfuric acid solution to dissolve the copper. Then the leach solution containing the dissolved copper is subjected to a process called solvent extraction (SX). The SX process concentrates and purifies the copper leach solution, so the copper can be recovered at a high electrical current efficiency by the electrowinning cells. It does this by adding a chemical reagent to the SX tanks which selectively binds with and extracts the copper, is easily separated from the copper (stripped), recovering as much of the reagent as possible for re-use. The concentrated copper solution is dissolved in sulfuric acid and sent to the electrolytic cells for recovery as copper plates (cathodes). From the copper cathodes, it is manufactured into wire, appliances, etc. that are used in every day life. Below are some photos of the process equipment at an Arizona Copper Mine.
Copper ore mining equipment supplier
SBM is a copper ore mining equipments manufacturer in China, and offer types of copper ore crusher, mills, and concentration machine for copper ore mining operation in Chile, Peru, USA, Congo, Zambia, KZ, Mexico, Belgium, Germany, Zaire, Indonesia, Canada, Zimbabwe, Turkey, Philippines, Tanzania, Nigeria, South Africa, Iran, Pakistan, UK and New Zealand. SBM can also design the copper ore mining process flow sheets for copper concentrate production according to your requirements.
Copper ore mine machine
Mine ore processing