Copper ore Grinding Circuit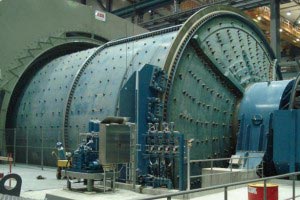 Copper ore grinding circuit is used in concentrate process for beneficiation. It includes crushing and milling process.
Copper ore grinding process
In the Copper ore grinding plant, firstly, the copper ore is crushed in a series of cone crushers. Then crushed ore is then ground even smaller by a series of mills. First, it is mixed with water and placed in a rod mill, which consists of a large cylindrical container filled with numerous short lengths of steel rod. As the cylinder rotates on its horizontal axis, the steel rods tumble and break up the ore into pieces about 0.13 in (3 mm) in diameter. The mixture of ore and water is further broken up in two ball mills, which are like a rod mill except steel balls are used instead of rods. The slurry of finely ground ore that emerges from the final ball mill contains particles about 0.01 in (0.25 mm) in diameter.
The froth flotation cells recover the copper from sulfide ores by chemically attaching the copper to a chemical bubble and overflowing the froth (bubbles with copper). The concentrates from the flotation cells are sent to the smelter for processing to a copper plate
Copper ore grinding mill
The Copper ore grinding circuit consists of a SAG mill and two ball mills, all dual pinion gear driven.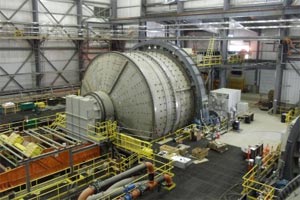 Ball mill
Ball mill is the main copper ore grinding machine, used for grinding copper ore into powder. These ground copper ore powder are concentrated by a flotation process which separates the grains of ore mineral from the waste material, or gangue.
SAG mill
SAG mill is a another widely used copper ore grinding machine. Semi-Autogenous Grinding mill utilizes steel balls in addition to large rocks for grinding. It has a large diameter and short length. It rotates, tumbling its contents, causing a breaking action. The mill chute is continuously fresh ore and crushed until it is small enough to pass through the discharge grates.
Rod mill
Rod mill is also common copper ore milling machine, used to grind material into fine powder. Using long steel rods instead of balls as the grinding medium, Rod mills are typically used for grinding ores, coal/coke, and other materials for both wet and dry applications. In general, rod mills create a coarser product than do ball mills. Rod mill speed is typically slower than a ball mill.
SBM is a professional copper ore grinding mill manufacturer in China, and offer types of ball mill, rod mill, SAG mill for copper ore mine beneficiation in Indonesia, Canada, Zimbabwe, Turkey, Chile, Zambia, Philippines, USA, Tanzania, Nigeria, South Africa, Iran, Pakistan, UK and New Zealand. We design copper ore grinding circuit according to the concentrate and refining process.
Copper ore mine machine
Coppre ore production