Construction waste recycling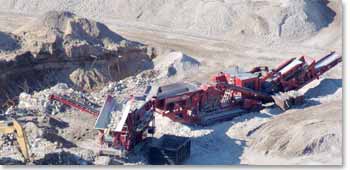 Construction waste recycling is the separation and recycling of recoverable waste materials generated during construction and remodeling. Packaging, new material scraps and old materials and debris all constitute potentially recoverable materials. In renovation, appliances, masonry materials, doors and windows are recyclable.
Construction waste crushing process
Construction waste such as gravel, concrete, bricks, metal, mortar, tiles and other masonry material can be re-used as buiding materials after crushing. After you collect metal from the construction aggregate, the waste can be crushed. The complete crushing plant is consisted of jaw crusher, belt conveyor, and vibrating screen. Usually we choose mobile crusher to crush stone materials. Mobile crusher (protable crusher) is convenient, and unite crushing and screeing unit, don't worry about the problems of crushing spots.
Construction waste recycling machine
The machines used in construction waste recycling process are mainly crushers. These crushers can crush construction debris, scrap concrete into building stone materials. There are severals types of construction waste crusher machines.
In the construction waste recycling plant, crusher is the main construction waste recycling machine used for crushing construction waste into aggregates and sand. Stationary or mobile crusher is available to use in crushing plant. double deck screen or triple-deck screen is used as construction sieve equipment.
SBM is a manufacturer of crushers and grinding mills in China. Mobile crushing plant we design is very suitable for construction waste recycling. Of course, we also supply other crushing equipments and grinding machinery for reuse of construction debris. With 30 yeas' experience, SBM is confident to supply best machines and service for construction waste recycling plant.
Construction Waste
Construction waste is anything generated as a result of construction and then abandoned, regardless of whether it has been processed or stockpiled. It comprises surplus materials from site clearance, excavation, construction, refurbishment, renovation, demolition and road works. There are two types of construction waste:
* Inert construction waste
* Non-inert construction waste
Non-inert construction waste is around 20% of the total and usually comprises bamboo, timber, vegetation, packaging waste and other organic materials. Some of these can be recycled while others are disposed of at landfills. In contrast, inert waste - otherwise known as public fill - mainly includes construction debris, rubble, earth, bitumen and concrete, aggragate, which can be used for land formation. Materials like concrete and asphalt can also be recovered for construction use.
Stone quarry
Contact E-mail: [email protected]