Gravel Crusher
Gravel crusher is a type of stone crushing machine used to crush river stone, pebble, cobble into small particle for building aggregates and sand gravel production. It can crush native rock like marble, limestone, basalt, quartz, sandstone into different grade of sizes.
Type of Gravel crusher machine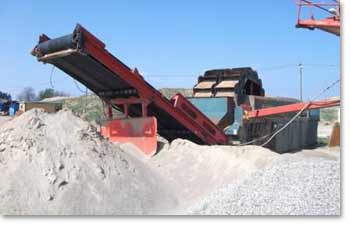 Gravel crusher is the esssential sand gravel making machine. SBM offer types of rock crushers used in sand gravel production line.
Jaw crusher is used as coarse crushing machine in sand gravel plant. Impact crusher and cone crusher is used in fine crushing process for sand gravel crushing plant. Mobile crusher is the most widely used crushing machine for sand gravel production line.
Cone crusher is used as fine gravel crushing machine. SBM offer four types of cone crusher for sale used in stone quarry. CS cone crusher is the most advanced cone crusher including short head and Standard cone crusher.
Vibrating screen is used as sand gravel screening equipment. It can sieve out the different size of gravel for building aggregate and concrete. SBM can offer Double-deck sifter or triple-deck sifter vibrating screen for sale used for gravel classification.
Gravel washing machine is used for cleaning the dirt from sand gravel. These sand gravel can take place of river sand used in construction building industry. SBM can offer Wheel Sand Washer machine and Screw Washing machine for sale used in sand gravel plant.
Gravel grinding mill is mainly used in fine gravel production line. Ball mill is the main gravel grinding machine. SBM can offer small or large ball mill for sale for gravel processing.
Gravel crusher manufacturer
SBM is a famous company of rock gravel crusher manufacturer in China, and supply types of gravel crusher machine, grinding mills and other making machines for sale with best price used in sand gravel production line. SBM aldo design complete sand gravel crushing plant in USA, South Africa, Egypt, Mongolia, Germany, Russia, Pakistan, Malaysia, India, Iran, Israel, Ghana, Saudi, Arabia, Austria and Brazil. Of course, SBM not only supply sand gravel crusher plant, but also a series of installation and maintenance service.
Gravel crushing plant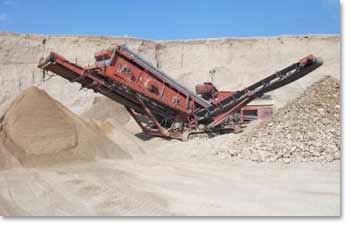 Gravel crushing plant is consist of several types of stone crushing and screening machine and is used for producing sand gravel.
flow chart of Gravel crushing plant
First, vibrating feeder can feed stones evenly into primary crusher, usually it is jaw crusher. Stones after primary crushing through belt conveyor enter into impact crusher or cone crusher for further crushing. Then through the screening machine, the suitable gravel is screened out, while the unsuitable stones is back to the gravel crusher palnt for re-crushing. The size of finished gravel can be adjusted according to the customers' requirements. The complete gravel crushing and screening plant has different capacity because of the different crushers you choose.
Mobile gravel crusher plant is the portable crushing plant, it unite crushing and screening process. Vibrating feeder, belt conveyor, vibrating screen and crushing machine make up the complete portable gravel crusher plant. SBM can offer portable jaw crusher plant, portable impact crusher plant, portable cone crusher plant and crawler-type mobile crusher for sale used for gravel crushing plant.
Stone quarry
Contact E-mail: [email protected]