Stone crushing machine for silica sand mining in South Africa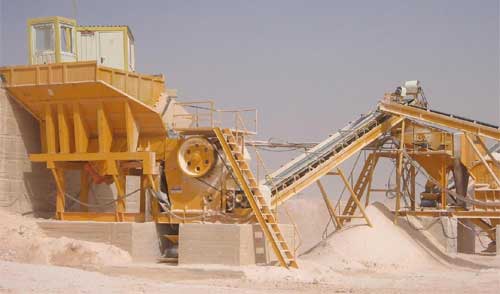 Stone crushing machine in South Africa
Stone crushing machine in South Africa is mainly used for crushing stones, mine ores into small pieces for building aggregate crushing, silica sand mining, and mine ore mining, processing plant.
Rock crushing machines south Africa
SBM is a stone crushing machine manufacturer in China, and offer types of crushers for sale for the crushing plant in South Africa.
SBM machinery includes jaw crusher used for primary stone crushing process, impact crusher or cone crusher used for fine crushing plant, VSI crusher or sand making machine used for silica sand mining plant. These stone crusher machines have different capacity, final size, and crushing ratio. SBM can design the complete stone crushing plant for your special demands.
Sand screening equipment in South Africa
Sand screening equipments are used for sieving out the desirous sand size. In South Africa, sand screening equipment is mainly the vibrating screen. SBM vibrating screen is double deck screen or triple-deck screen. SBM can also offer mobile sand screening plant for sale in South Africa used for sand business.
Sand washing machine south Africa
Sand washing machine is a cleaning machine used for clean out the dirt from the sand to separate powder soil in sand and stones. Sand washing machine usually has functions: washing, dewatering, classifying. SBM offer screw sand washing machine and Wheel Sand washing machine for sale for the sand making plant in South Africa.
Silica sand mining plant in South Africa
In South Africa, Sand has also been mined for filter beds for drinking water and wastewater treatment, well screen packing, glass manufacture, and bedding sand for dairy operations.
Sand Crushing
Sand Crushing plants are usually composed of a primary crushing unit and a secondary crusher with a screen plant. The shot rock is picked up by front end loaders from the blast area and carried to the primary crusher. The primary crusher breaks the shot rock into what is referred to as breaker run. Breaker run is conveyed to the secondary crusher where it is further broken down.
The resulting material is fed to a screen plant where it is sorted by size. Smaller particles of a targeted size are carried away to stockpiles. Larger particles are recycled within the plant to the secondary crusher and screens until they have reached the desired size.
Sand Washing
The silica sand plant will wash, dry, sort, and store the sand. Washing is done by spraying the sand with water as it is carried over a vibrating screen. The fine particles are washed off the sand and the coarse particles are carried along the screen by the vibration. After washing the sand is then sent to a surge pile where much of the water adhering to the sand particles infiltrates back into the ground.
Once the sand is dried it is cooled and may be further sorted by screening. This sorting is performed so that sand particles of similar sizes may be selected and stored. Sand Processing plants may be located on the same site as the mine or in some cases the Sand processing plant is located separate from a number of mines which support the processing facility.
SBM is construction and mining equipments manufactuter in China, and offer types of crushers, screening, washing machine for sand mining, processing plant in South Africa.
Contact E-mail: [email protected]