Silica Sand Making Plant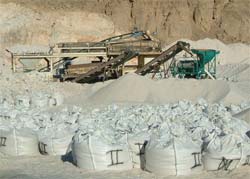 In silica sand making plant, Silica sands are produced from both loosely consolidated sands and weakly cemented sand stones. Coarse-grained, well- rounded quartz sands are particularly suited for water treatment and are produced by the selective screening of sands form a number of quarries. Construction and silica sands are normally derived from the same quarry and their production is interdependent. Closely-sized water filtration sands are also produced from the sand making plant, which is a regionally important resource of sand and gravel.
In the silica sand production line, silica sand making process includes five stages, they are sizing, washing, sieving, attritioning and drying. Silica sand making plant produces industrial white silica sand having an extraordinarily high purity, with SiO2 > 99.5 wt%. The grain size ranging from 0.125 to 3.00 mm. Different silica sand Sieving facilities provide different size distributions for construction building.
Silica sand making process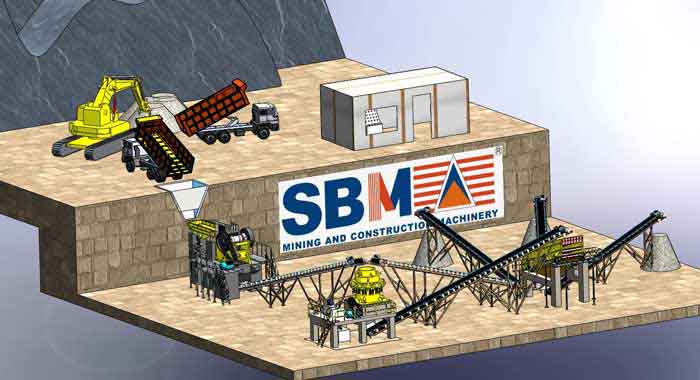 In the silica sand making process, jaw crusher is used as primary crushing machine, then go through the secondary crushing plant, the sand particles that meet the requirements enter into the sand making machine for making fine sand, while the others enter into the tertiary crushing plant for fine crushing, then go for sand making. The fine sand from the sand making machine must be washed by sand washer. Then dried by drying machine. Sometimes, we meed silica oowder, thus we need silica sand grinding machine, it can grind silica sand into powder.
Silica Sand making machine
In the silica sand making plant, Crusher, screen, washing machine are used for silica sand mining, processing.
Silica sand crusher
In the silica sand production line, stone crusher is mainly used for crushing quartzs, sandstones into small particles. Jaw crusher is the coarse silica sand crushing machine, impact crusher and cone crusher is the fine sand crusher. VSI crusher is the sand making machine used for sizing and shaping.
Silica sand screening machine
In the silica sand making plant, Vibrating screen is the main silica sand screening machine, according to the diffreent mesh, choose the right screen cloth used as sieving equipment.
Silica sand washing machine
Silica sand washing plant is used to wash out dirt, ash from the sand. In this sand washing process, XSD series sand washing equipment are widely used, Its capacity varies from 20 t/h to 180 t/h.
Silica Sand making machine manufacturer
SBM is a munafacturer of silica sand making machines manufacturer in China, and supplies all kinds of stone crushers, screening, washing machine and grinding mills for silica sand mining, processing plant. We also design a complete silica sand production line for manufacturing construction building materials like aggregate, artificial sand gravel in Malaysia, Indonesia, Philippines, Pakistan, India, Singapore, Israel, Egypt, Italy, Kenya, Sri Lanka, South Africa, Zimbabwe, Ethiopia, Jordan, Brazil, USA, Cananda, Peru, Cuba and Macedonia.
Sand processing