Silica sand washing plant
Silica sand washing plant is used to process sand for concrete, other industrial sand and bentonite sludge and for washing various minerals. Based on an individual study of each product, special silica sand washing solutions are sought for even the strictest requirements.
Silica sand washing process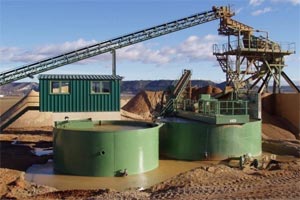 The operating method of silica sand washing plant can be summed up these process:
Water pulp plus contaminated sand fed to vat.
Pumping stage from main vat to cyclone.
Pulp cycloning stage (separation of sand and clay or filler).
Water and clay from cyclone enter secondary vat for automatic adjustment of main vat level using buoy system.
Clean sand from cyclone drained.
Water and clay or filler leave secondary vat to go to thickening process.
Washed sand leaves for storage via channel.
Depending on the silica sand washing process and operating conditions (percentage of material to be removed and the end product quality required), a series of several cycloning stages may be necessary.
Silica sand washing machine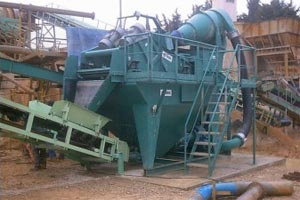 Silica sand washing machine is used to obtain sand that meet industry requirements such as grain size, fineness or for cleaning harmful materials like clay, organic matter, chloride, sulphates, etc. These sand washers are also designed for new applications such as manufacturing sand for top-quality concrete, automatic restructuring of sand grain size curves or treating contaminated soil.
The component of Silica sand washing machine unit, i.e. pumps, motors, drainers, hydrocyclones, etc. will be selected in accordance with the job specifications. The wide variety of combinations available allows a broad range of practically tailor-made machines to be manufactured for each client, thus optimising the investment necessary to produce the facility.
The clarifiers machines are used for recovering, by means of hydrocyclones, of fine sand which is lost because of overflow of wash equipments like wheel washers or worm gears.
The dewaterer are used generally to eliminate the water excess in materials in the outlet of washing equipments.
Silica sand washing machine manufacturer
SBM offer screw sand washing machine and wheeled washing equipment for sale for dehydration, washing, and classification of coarse and fine sand. The range of products goes from 20 T/h of sand washed in the smallest SBM Silica sand washing plant up to 300 T/h in larger versions.
SBM is a famous silica sand washing machine manufacturer in China, and offer types of sand washer, screen and other sand making machine for silica sand washing plant in Sri Lanka, South Africa, Kenya, USA, Malaysia, India, Indonesia, Italy, Cameroon, Australia, Burma, Cambodia, Tanzania, Iran, Nigeria, Lebanon, Ghana, Qatar, Philippines, Egypt and Ethiopia. We also design silica sand washing process diagram for silica sand making plant according to the cost and layout.
Sand processing