Ballast crushing and screening plant
Ballast crusher in crushing and screening plant
Ballast crusher is used for crushing stones into small pieces to produce railway ballast in Stone quarry plant. There are several types of ballast crushers used in ballast crushing and screening plant.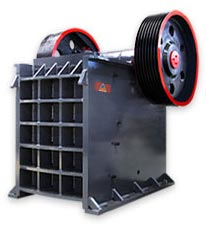 Jaw crusher is the most common ballast crusher machine in quarry. Usually it is used as primary ballast stone crushing equipment. SBM can offer small or large jaw crusher for sale used for ballast crushing and screening plant.
Impact crusher is used as secondary ballast crushing machine for crushing rocks, stones in ballast production line. SBM offer PF and hydraulic impact crusher used as ballast crusher machine.
Cone crusher is the fine ballast crushing machinery. There are four type of cone crushers: spring cone crusher, CS series cone crusher, hydraulic cone crusher and hcs90 cone crusher. SBM cone crusher is usually found in ballast crushing and screening plant in India.
Ballast used for highway and railway is required to be cubic, so the ballasts have to be shapped through vsi crusher. Then use the ballast screening machine to screen out the suitable the ballast used as construction building materials.
In the ballast production line, ballast crusher is used for manufacturing track ballast for railway, sometimes, ballast grinding machine is used to produe smaller ballast for road building aggregate.
Ballast crusher manufacturer
SBM is a track ballast crushing machine manufacturer in China, and provide all kinds of ballast crusher, vibrating screen, grinding and washing machine for sale with best price. We also design the complete ballast crushing and screening plant for stone quarry in India, Indonesia, Philipines, Vietnam, USA, South Africa, Egypt etc.
Ballast crushing and screening plant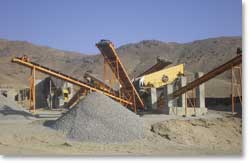 In the ballast crushing and screening plant, good quality track ballast is made of crushed natural rock with particles between 28 mm and 50 mm in diameter. And angular stones are preferable to naturally rounded ones, as angular stones interlock with each other, inhibiting track movement. Soft materials such as limestone are not particularly suitable, as they tend to degrade under load when wet, causing deterioration of the line; granite, although expensive, is one of the best materials in this regard.
In order to get the eligible ballast stones for highway, railway and road building, quarry mining usually use the complete ballast crushing and screening plant. The ballast crushing and screening process is as follows:
In ballast crushing and screening plant, stones firstly enter into jaw crusher for primary crushing, then through belt conveyor evenly enter into impact crusher or cone crusher for fine crushing. Finally, through vsi crusher stones mainly are cubic in shape. Vibrating screen is used as screening machine to screen out the different size of ballast. The ballast that are unqualified return to the ballast crusher plant for crushing again.
Related Solution
Contact E-mail: [email protected]