Coal crushing Plant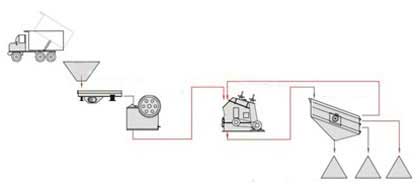 In coal crushing plant, coal is processed and crushed into different sizes, 0 ~ 25 mm particle size for coal gas stove, 25 ~ 8 mm for steam locomotive, 25 ~ 6 mm for the industrial furnace, and coal power plant requires grain coal of 0 ~ 25mm. Coal crushing and coal milling is the important process for coal processing plant.
Coal Crushing Machine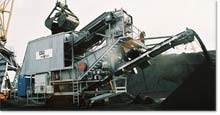 Coal crusher is the main crushing machine used in coal crushing plant. Coal crushing plant consist of many types of crushers, vibrating feeder, screen and grinding mills. Coal crushing equipments include jaw crusher, impact crusher, cone crusher hammer crusher and mobile crusher etc. Vibating feeder, screen and washing machine are also the coal processing equipments. These complete coal crushing plant produce small coal particles for further grinding process.
Stationary coal crusher plant use jaw crusher as primary crushing machine, impact crusher used as secondary crusher. Cone crusher is used as fine coal crushing machine. These crushes makes up stationary coal crushing plant used in coal handling plant.
Mobile crushing plant is the portable coal crushing unit, it including crushers, belt conveyor, vibraitng feeder and vibrating screen. SBM can offer Portable jaw crusher, portable impact crusher, portable cone crusher and crawler-type mobile crusher for sale used for coal crushing plant.
Vibrating Screen is coal screening plant, used for coal screening, extraction and separating. Coal screening plant includes coarse grading, fine grading, dedusting and the extraction of undersize particles. SBM offer double-deck and triple-deck screen for sale for coal crushing & screening plant.
Coal washing machine is a cleaning equipment, it is used to remove dust, clay and other unwanted materials out from coal. SBM can offer types of machines used for density separation or froth flotation process.
Coal mill is the grinding machine used to grind crushed coal into powder. It is widely used in coal powder production line like thermal power plant. SBM can offer ball mill and vertical mill for sale used in coal powder grinding plant.
Coal crushing machine manufacturer
SBM is a coal crushing machine manufacturer in China, and supplies all types coal crushing & washing machines, vibrating screen, and grinding mill for coal mining, processing plant in Indonesia, South Africa, India, Canada.
SBM not only supplt types of coal crusher machines for coal mining process, but also design coal processing solution with after-sale services: installation and maintenance for coal mine.
Coal processing machine
Coal Processing