Coal preparation plant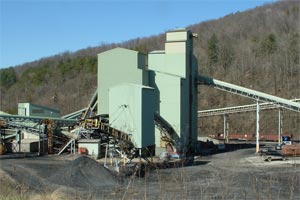 Coal preparation plant is the removal of soil, rock and dirt, Ash from Run-of-mine (ROM) coal through washing and separation processes. It may also be called a "coal handling and preparation plant", "prep plant". Coal preparation makes the resource more economically profitable by improving its quality and also contributes to lower transport costs by reducing waste products. Through coal preparation, a uniform product is achieved. There are following methods: Jigs, Concentrating tables, Spirals, dense medium separation, Froth flotation.
flow sheet of coal preparation plant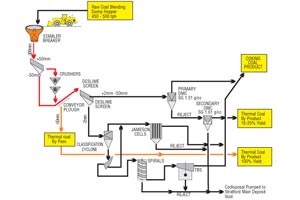 Once coal has been extracted from a mine site it is often necessary to process it by way of coal preparation.
First, the mined coal is loaded into a stockpile, with a reclaim tunnel beneath it. Then, the coal is transported to a raw coal silo, usually 10,000 ton capacity, for feed to the coal preparation plant at a constant rate. The first stage is a crushing and screening plant, then the crushed coal go through coal preparation process with heavy media processing for coarse coal (sizes 2 - 10 mesh), spirals for the middling sizes (10 mesh - 60 mesh), flotation for the -60 mesh fine coal. The cleaned coal is then transported to the Dewatering plant, which is a series of thermal dryers for reducing the moisture content and thereby raising the BTU value of the coal. The final dried coal product is then transported to the clean coal silo's for loading onto a train for transport to the steel mill and a steam power generation plant.
Coarse rejects are crushed and then recombined with the fine tailings for disposal to the refuse fill. All ROM coal production is beneficiated in the coal preparation plant.
Equipment in Coal preparation plant
The Coal Preparation unit is fully equipped with the following machine:
Crushers of various types and sizes
Batch and continuous grinding mills
Heavy media separators: jigger machine, Large Diameter cyclones, Magnetic Separator, Spiral separators
Flotation Cells
Equipment-Dewatering: Screens, Centrifugal Dryers, Vacuum filters or Screen Bowl Centrifuge, Hyperbaric Filter
Coal Preparation plants generally use gravity process equipment to separate the refuse from the product (coal). Heavy Media is the most popular method of cleaning coarse sizes, Jigging separation plants are probably the second most common method used for coarse coal. Heavy media cyclones are being used more often for fines size fractions. Flotation is generally used to clean the -28 mesh size fraction, although spirals and heavy media cyclones have shown success in cleaning down to 100 mesh coal feed. Spirals are generally used for middling sizes ( 10 mesh to 60 mesh).
SBM is a coal processing equipments manufacturer in China, and supply types of coal beneficiation equipments: coal crushers, coal mills, pulverizers, vibrating screen, washing machine, and gravity separator for coal preparation plant in India, Russia, Canada, Vietnam, Indonesia, Australia China, USA, Germany, South Africa, Poland, Zimbabwe, Columbia, Pakistan, Philippines.
Coal Processing