Coal milling machine used for thermal power plant
Type of coal milling machine
Coal ball grinding mill is a common milling machine used in coal preparation plant, and also is the early coal mill. It is easy to operate and maintenance. It's capacity is large, it is a large scale coal mill.
High Pressure suspension grinding mill, improved version of Raymond milling machine increases the performance stability and enhances the grinding fineness and efficiency. It's fineness can be upto 200 mesh in coal milling project.

Trapezium mill is based on and improved from Raymond grinding machine and Pressure roller grinding machine, it's performance is more superior. From the roll installation to the pressurization system design, the higher level of technical concept can be seen. Trapezium mill has replaced the traditional Raymond milling machine in the market, and features high capacity, stable operation. It has become the most common types of coal grinding machine.
Vertical coal grinding mill produced by precise control can process large quantities of materials and it features precise grinding size, and mass production. It has become the favorite equipment for large enterprises. Because of its large capacity and complex technology, it is not suitable for small and medium-sized enterprises.
Coal milling plant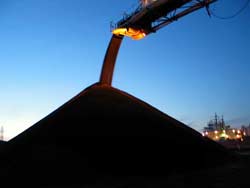 Coal has many important uses worldwide. The most significant uses are in electricity generation, steel production, cement manufacturing and as a liquid fuel. So coal crushing and milling is the first step of coal processing. When the coal go through crushing and screening plant, it has suitable size, then enter milling machines to grind it into powder.
General ball grinding mill is the first coal milling machine, after grinding in the ball grinding mill, it then into ultrafine mill. In this process, we use vertical mill or ultrafine grinding mill. When it is suitable for your need, collect coal powder for further processing.
With increasingly worsening environment, coal power plants should utilize coal more efficiently. This matters not only the profits of the power plant, but also the social development and environmental protection.
Coal milling machine manufacturer
SBM is a coal milling equipment manufacturer, and supply types of coal processing equipments: coal crushers, coal mills, pulverizers and vibrating screen for coal powder plant such as thermal power plant, cement plant. SBM can design special coal milling solution with pulverizer machine for customers in India, Russia, Canada, Vietnam, Indonesia, Australia China, USA, Germany, South Africa, Poland, Zimbabwe, Columbia, Pakistan, Philippines.
Coal Processing