Mobile Crusher for Coal Mining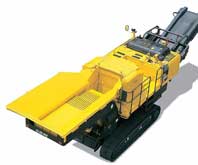 Coal mobile crusher for Opencast Coal Mine
With global scientific and technological progress, the coal industry is changing from labor-intensive into capital and technology-intensive. The coal technology has also transformed from mechanized production to automatic control. Robot or artificial intelligence combined with expert is the new way for coal mining.
In order to solve the problem of small coal mine area and inconvenient transport of equipments, SBM, based on 20 years' production experience and several years' research, manufactures the world-class high-quality crawler type mobile crushing plant. It is made by impact crusher, jaw crusher, cone crusher, vertical impact crusher, conveyor, belt conveyor etc. It can meet different requirements "screening after crush" and "crush after screen". The crushing process can be divided into two phases "coarse and fine", and three phases "coarse, middle and fine". Moreover the mobile crushing plant can operate independently and jointly with great flexibility.

Mobile crushing plant has changed the past old way of coal processing mode in coal industry. It improves the efficiency of integrative coal treatment and highly recommended in coal and mining industry. This portable crushing plant is designed based on the conception of fully adapting various crushing condition, eliminating obstacles caused by location, environment, foundation configuration, consequently providing simple, efficient, low-cost crushing equipment.
According to different customers' requirements, SBM mobile crushing plant can be operated as independent units, or as two-stage crushing plant with primary and secondary crushing, or as three-stage crushing plant with primary, secondary, and tertiary crushing. Likewise, SBM mobile crusher plant can be easily adjusted to suit the crushing application by choosing feeding to crusher or feeding to screen options.
Mobile crusher supplier
SBM is mobile crushing plant manufacturer in China, and offer types of crusher, screen, belt conveyor and griding mill for coal mining, processing plant in India, Russia, Canada, Vietnam, Indonesia, Australia China, USA, Germany, South Africa, Poland, Zimbabwe, Columbia, Pakistan, Philippines.
SBM can provide special portable crushing plant based on customers' site, coal material, and particle shape requirements, etc. Such as self-load belt conveyor, multiple machines combined type, single machine type and so on.
Coal Mine machine
Coal Processing