Mobile Crusher Plant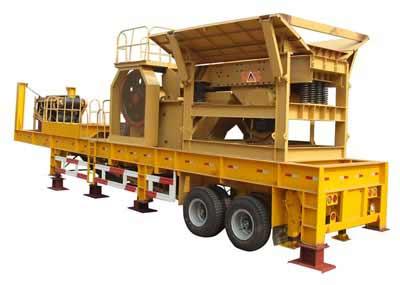 Mobile crusher, also named protable crusher is used for mine ore mining, stone quarry, construction waste recycling, and cement industry.
SBM is a professional mobile crusher manufacturer in China, and supply types of mobile crusher for sale used in concrete recycling, coal mining, and aggregates production line. In stone quarry plant, Mobile crusher is used for crushing granite, limestone, quartz, basalt, marble into building aggregates for construction in USA, Germany, India, Australia, Ghana etc.
Mobile Crusher Parts
Mobile crusher plant including four types, there are Portable jaw crusher plant, Portable impact crusher plant, and Portable cone crusher plant and Crawler type mobile crusher.
Mobile jaw crusher plant consists of jaw crusher, vibrating feeder, belt conveyor and car body.
Mobile impact crusher plant including impact crusher, vibrating feeder, vibrating screen, belt conveyor and car body.
Mobile cone crusher plant including cone crusher, vibrating feeder, screening machine, belt conveyor and car body.
Crawler type Mobile Crusher adopts crawler rigid ship form structure, the motor of high-torque, strong driving force and Controlling system.
Mobile Crusher Construction
In addition to feeding system, broken systems, screening systems, conveyor systems, mobile crusher contains the power unit that can be different according to the mobility of mobile operations. Combined these several devices, a complete mobile crusher plant can be formally co-operation.
According to different crushing processes, the mobile crusher structure is also different. All the machine tool are assembled in a rack, this device is known as the single monolithic device. Each machine will be installed separately in each rack, or a certain number of them installed on a rack. When operating, the several independent chassis are placed as required. Though belt conveyor each machine is combined together, rather like a car, the car insurance and the driver itself. This device is called multi-machine modular equipment.
Mobile Crusher Main Features and Benefits
Integrative equipment group make installation easy
The form of integrative installment reduces the installation of the complex infrastructure and accessory equipment, lower the consumption of materials and man-hour. The spatial arrangement optimizes the operating spaces, saves the floor space and expands the stockpile area and transport space.
Good mobility
The vehicle chassis is high and turning radius is small, which is convenient to transport on common road and more convenient on road of the crushing place. The mobile crusher machine saves the time to enter the working place. It is also propitious to ente the reasonable working place and supplies the space for all of the crushing flow.
Lower Transportation cost
The crusher can crush materials at primary site and remove transportation from the primary site to crushing place, which lower the freight cost. In addition, extended equipment group conveys the materials to the designated belt conveyor directly.
Direct and efficient operation is convenient for client
Integrative Mobile crusher can be used independent and supply the flexible design to satisfy users' requirements such as mobile crushing, mobile screen and so on, which is according to requirements of raw materials and final products.
Easy to adapt and flexible to collocate
It supplies the shortcut and low-cost integrative equipment configuration. It can work independently or jointly according to the coarse or fine crushing and screening system. Side hopper supplies the flexibility for the materials transportation. Diesel engine generator of integrative configuration not only supplies power but also jointly supplies power for whole flow integrative group specially.
Reliable performance and convenient maintenance
PE, PF or HP series crushers in the mobile crusher plant with feature high crushing ratio, multifunction, fine products, reasonable structure design and excellent crushing performance. Reliable quality better satisfy the requirements of coarse, medium and fine crushing and screening. The mobile crusher enjoys the high quality reputation at home and abroad. It not only features mature technology and easy maintenance, it also has good adaptability and safety to conveyed quantity, size of materials and erosion. Integrative system makes it easy to install and maintain, which in turn ensure its high durably and efficiency.
Mobile jaw crusher Specification
Parameter
Feeder Model
Jaw crusher
Model
Belt conveyor
Model
Extended conveyor
Generator
Capacity
Power
Model
YG938E69
GZD-960X380
PE600X900
B650X7M
adapting
adapting
70-150t/h
91.5KW
YG1142E710
GZD1100X4200
PE750X1060
B800X9M
adapting
adapting
80-200t/h
134KW
YG1349E912
GZD-1300X4900
PE900X1200
B1000X11M
adapting
adapting
150-300t/h
146KW
Mobile impact crusher Specification
Type
Vibrating Screen
Type
Impact Crusher
Type
Belt Conveyor
Type
Capacity(t/h)
Power(kw)
Y3S1548F1010
3YA1548
PF1010
B500×7M
30-275
70-90
Y3S1848F1210
3YA1848
PF1210
B650×7M
56-330
128.5-150.5
Y3S1860F1214
3YA1860
PF1214
B650×8M
65-586
154-190
Y3S2160F1315
3YA2160
PF1315
B800×8M
81-720
210-297
Mobile cone crusher Specification
Model
Vibrating Screen
Type
Cone Crusher
Type
Belt Conveyor
Type
Capacity (t/h)
Power (kw)
Y3S1548Y55
3YA1548
PYB900
B500×7M
50-90
75
Y3S1848Y90
3YA1848
HCS-90
B650×7M
65-130
99-134
Y3S1860Y160
3YA1860
CS 4 1/4
B650×8M
110-455
212.5-220.5
Y3S2160Y220
3YA2160
PHPC-220
B800×8M
140-330
257.5-264.5
Note: This specification is just reference, any changes are subject to the Mobile crusher products.
Attachment:


Mobile Crusher PDF
Contact E-mail: [email protected]