Hammer Crusher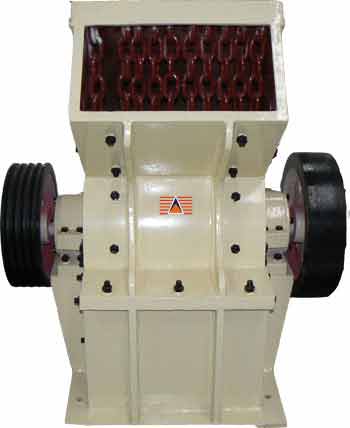 The hammer crusher also named hammer mill, crushes materials by the collision between the high-speed hammer and materials with Both Dry and Wet Process.
Hammer Crusher Application
Hammer crusher for gypsum powder production line
In the gypsum powder production line, hammer crusher is used in the crushing process. It is mainly used to crush gypsum into small particles less than 25 mm. In this gypsum crushing process, coarse jaw crusher and fine jaw crusher can be also used.
Hammer crusher for lime stone crushing
In the limestone powder (calcium carbonate powder) grinding plant, it is used befor grinding process. It is used to crush big stones into small pieces that are grinded into powder.
In the construction building materials making line, hammer crusher is used for crushing big rocks into small and cubic pieces that are used as construction and road building materials.
Hammer crusher for coal
It is used as coal mill in the thermal powder plant. In the power plant with verticla mill and air classifier to crush and grind coal into powder to get energy efficiently. SBM can design the whole coal crushing plant and grinding mill for the coal mining.
Hammer crusher for mine ore mining
It is used as small rock crusher equipment in small scale mine ore mining plant. In the gold mining plant, it is used to crush stones or rocks with gold into small grain for further processing, and smelting.
Hammer Crusher Main Features and Benefits
simple structure
high crushing ratio
high efficiency
suitable for dry and wet crushing
Hammer Crusher working principle
Driven by the motor, the rotor which consist of main shaft, disk, pin shaft and hammers rotates at high speed in the crushing cavity. Raw materials enter the cavity through the feed opening. Materials in the cacity are blowed, impacted and ground by the hammer. Below the rotor is the sieve plate, which screens the materials. Materials that reach the required size can be discharged from the sieve plate, while the oversize materials will be left and crushed again until reach the standard size. The final product size can be adjusted by changing the screening plate. The gap between the rotors and the screening plate can also be adjusted according to different requirement.
Hammer crusher Specification
| | | | | |
| --- | --- | --- | --- | --- |
| Model | Input size (mm) | Output size (mm) | Capacity(t/h) | Power(Kw) |
| PC 400×300 | <100 | <15 | 5-10 | 11 |
| PC 600×400 | <220 | <15 | 10-25 | 22 |
| PC 800×600 | <350 | <15 | 20-50 | 55 |
| PC 800×1000 | <400 | <15 | 20-75 | 110 |
Note: This specification is just reference, any changes are subject to the Hammer crusher products.
Hammer crusher manufacturer
SBM is a professional hammer crusher manufacturer in China, and offer types of hammer crusher and mill for sale with best price used for stone crushing and mine ore mining, such as coal crushing, milling and gold mining production. SBM also design hammer crusher line for quarry and mine in China, the Philippines, South Africa, Brazil, Italy, India, Iran, Indonesia, Uganda, Sri Lanka, Nigeria, Zimbabwe, Egypt, Pakistan, Canada, Australia and UAE.
Attachment:


Hammer Crusher PDF Download
Contact E-mail: [email protected]