Gypsum processing plant
In gypsum processing plant, crushing, grinding gypsum into powder is the important step.
Machine used for Gypsum mineral processing plant
In this gypsum powder making plant, the machinery used is crushing machine, hoist, electromagnetic feeder, grinding machine, fluidized bed furnace( gypsum calcining equipment ), bunker, belt conveyor and dust collector.
The crushing machine used in gypsum powder making is hammer crusher, jaw crusher and cone crusher. They can crush gypsum rocks into particles.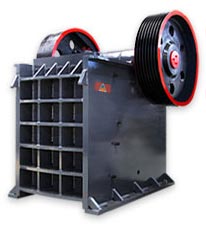 Jaw crusher for gypsum: Jaw crusher is used as primary gypsum crusher in gypsum primary crushing process. It can crush gypsum into small particles less than 8 cm. SBM Jaw Crushers are crushing without rubbing Minimum dust Oil lubrication, devise having Oil/Grease lubrication system. Our jaw crushers are designed for long life service with minimum maintenance for hard, tough, abrasive material and overload high capacity.
Cone crusher and hammer crusher is the gypsum secondary crushing equipment in processing plant. These gypsum crushing machinery can crush gypsum into small pieces less than 2cm. Cone crusher is designed without rubbing Minimum dust Oil lubrication, Law wear parts Gap adjustment and overload protection High capacity, High operational eliability Long service and life time Easy replacement of wear and spare part Wide range of application.
Hammer crusher
Hammer crusher is usually used before grinding plant. It is mainly used to crush large stones or rocks into smaller particles for grinding powder production.
The grinding mill used in gypsum processing plant usually is the raymond mill. Raymond mill usually has three models: 3R2714, 4R3216, 5R4119. The finished size can be upto 0.044mm, and can be adjusted from 100 mesh to 325 mesh. Other grinding mill is also used such as ultrafine mill, trapezium mill.
SBM is a famous mining and construction equipment manufacturer in China, and can design and supply the complete gypsum mining and processing equipments for your gypsum powder production line such as gypsum crusher machine and grinding mill in USA, Iran, Canda, Spain, Mexico, Thailand, Japan, France, Australia, India, Egypt, Italy, Poland, Ethiopia.
The gypsum powder production line
The gypsum powder production line includes four process flow: crushing, grinding, calcine, storing and feeding.
By using loader to feed the gypsum rock to the raw material storage bin. And then it will be transferred to the crusher to be crushed. Gypsum rocks is crushed into particles less than 30 mm by gypsum crusher, Then gypsum particles is feeded into raymond mill for grinding into partical size by electromagnetic feeder. The gypsum powder that meet the requirement of size is transported into fluidized bed furnace for burning. When heating and calcining the dehydrate gypsum and chemical gypsum (ardealite, desulphurization plaster, fluorgypsum), the dehydrate gypsum was decomposed, we get the semi-hydrated gypsum, i. E., plaster of Paris.
Dry gypsum process flow: plaster stone go through primary crushing process using jaw crusher, the size is less than 8 cm, the go through secondary crushing process, in this process, cone crusher is used as fine crusher, then the sie is less than 2 cm. After calcination, the calcined gypsum is grinded into the powder with 200-325 mesh by gypsum mill.
Stone grinding plant