Gypsum crusher
Gypsum crusher is used for crushing gypsum stone into small size for powder making. The gypsum crushing process can be operated in underground mining or storage.
Type of gypsum crusher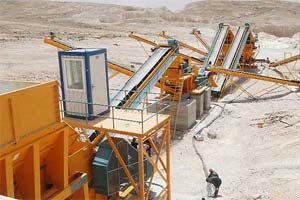 In the gypsum crushing plant, these are several rock crushers used as gypsum crushing machine
Jaw crusher is used in coarse gypsum crushing process. It can crush gypsum stones into small size less than 8cm. Jaw crusher is the primary gypsum crushing machine, and has different capacity. Small jaw crusher is used in small scale gypsum quarry plant, while large gypsum crushing plant adopt large jaw crusher as coarse gypsum rock crusher
Hammer crusher is used as fine gypsum stone crusher. In the fine gypsum crushing units, hammer crusher or impact crusher is used to crush crushed gypsum into smaller particles less than 10mm. These gypsum crushers are used before grinding process, and essential machine for powder making.
Vibrating screen is used in gypsum screening plant. After crushing process, crushed gypsum stones is screened out the suitable gypsum particles less than 10 mm, while the others go back gypsum crusher for re-crushing. SBM can offer 2-deck, 3-deck vibrating screen or mobile screening plant for discharging bulky goods, sand, gravel, coal, mineral ores and coke from hoppers to crusher.
Mobile crusher is the portable gypsum crusher machine. It contains crushing and screening process. It is suited to small scale gypsum crushing and screening plant for quarry plant. Mobile crusher is the important machine for gypsum crushing and grinding process. Portable crushing plants crush the material on site, without transporting the materials for off-site crushing, so the material transportation cost is greatly reduced.
Gypsum crushing and screening plant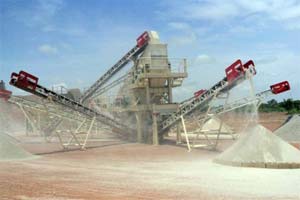 In the gypsum quarry plant, gypsum stones firstly go through coarse crushing process by primary jaw crusher, then the crushed gypsum particles enter into fine crusher plant. In this process, hammer, cone crusher or impact crusher can also be used as gypsum crusher machine. After coarse and fine crushing process, gypsum size can be up to 10mm. Then through vibrating screen, suitable gypsum size is screened for next grinding process for powder making.
SBM is a professional gypsum crusher supplier in China, and supply crushers, screening machine and belt conveyor for gypsum crushing and screening plant in Pakistan, USA, Canada, Iran, Spain, UK, France, India, Germany, Libya, Saudi Arabia, Tanzania, Nigeria, Oman, Egypt, Thailand, Poland, Mexico, Japan, Italy, Brazil and Australia. We also design gypsum crushing process according to the production capacity for gypsum quarry plant.
Gypsum Processing