Gypsum mining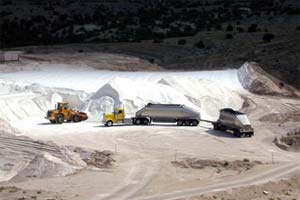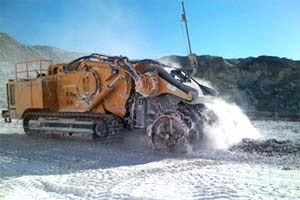 Gypsum mining is used to mine gypsum and anhydrite mine for gypsum powder manufacturing. These gypsum powders are used for construction building material production like plaster and plasterboard production, cement production and glass making.
Gypsum mining process
Gypsum mining process may be operated by opencast or by underground mining. Traditional gypsum mines deposit is mined by open-pit methods through drilling & blasting excavation. Most gypsum used in plasterboard manufacture is produced by underground gypsum mining operations.
Gypsum (hydrated calcium sulphate) has been quarried or mined by different gypsum mining process according to the gypsum mines deposits.
In the gypsum mining process, after gypsum is mined, it go through crushing, screening and grinding process. The gypsum is ground to a powder and heated to evaporate water. Heating to approximately 160ºC drives off a limited amount of water and Plaster of Paris is produced. The most important use of this type of gypsum is in the production of plaster and plasterboard. Heating to above 200ºC drives off all the water to produce the anhydrite which is used in the production of Portland Cement.
In the opencast gypsum mining, the gypsum is first drilled by either rotary or percussive drills mounted on mobile carriages. The drill holes are filled with explosives which on detonation provides a broken gypsum heap of mineral 60 or more tones in size.
The blasted gypsum material is loaded from the face with mechanical loaders of varying types into mobile transport units or on to belt conveyors. Primary crushing of gypsum may be performed either underground or on the surface.
Mechanisation of gypsum mining operations over the years has kept pace with advancing technology in the mining industry throughout the world.
Gypsum mining equipment
Gypsum mining equipments are used in opencast and underground mining operations including drilling machine, excavators, loading machine, crusher, screening, belt conveyor and grinding mill.
SBM is a famous gypsum mining equipments manufacturer in China, and offer types of drilling, loading, transporting, crushing, screening and grinding machine for gypsum mining plant in Pakistan, Libya, Saudi Arabia, USA, Tanzania, France, India, Germany, Nigeria, Oman, Egypt, Thailand, Spain, UK, Poland, Mexico, Japan, Italy, Canada, Brazil and Australia. We also design gypsum mining process flow sheet for gypsum mine deposits.
Gypsum Processing