Quartz grinding machine
Quartz grinding mill is the powder making machine used for quartz powder production line. It is used to grind quartz into powder in glass production line.
Types of quartz grinding mill
There are several types of quartz grinding mills that can be used as quartz stone grinding machines.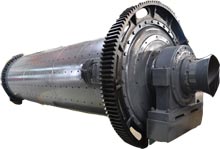 Ball mills are the main quartz powder grinding machine used in quartz stone grinding plant. It not only grinds quartz, but also grind other stones such as mica, feldspar, dolomite and gypsum, coal, cement clinker. The barrell body is wearable well and bears wearable scaleboard. The capacity range from 1 t/h to 30 tph.
Raymond grinder mill is also the widely used quartz grinding machine for powder plant in stone quarry. This machinery is applicable to the grinding process of barite, calcite, feldspar, talcum, marble, limestone, clay, glass. All the finished particles have a good uniformity of fineness, with passing screen rate as high as 98%.
Hammer mill is the another widely used quartz milling machine, it is mainly used in small scale quart powder productin line. Hammer crusher can crush quartz into powder with 10-100 mesh.
Ultrafine grinding mill is the fine quartz grinding machine. It is used to produce quartz thin powder and super thin powder with 300-2500 mesh. Under same condition of materials and finished particle size. the lifetime of the quick-wear part is longer than that of impact crusher and turbine crusehr.
Quartz grinding machine manufacturer
SBM is a manufacturer of quartz crushers and grinder mills in China, can supplies quartz crushing and grinding machines for quartz powder production line like glass crushing plant, ceramics crushing plant and quartz sand production line. We can also design special quartz grinding plant for customers in USA, India, Canada, Australia.
Quartz powder grinding plant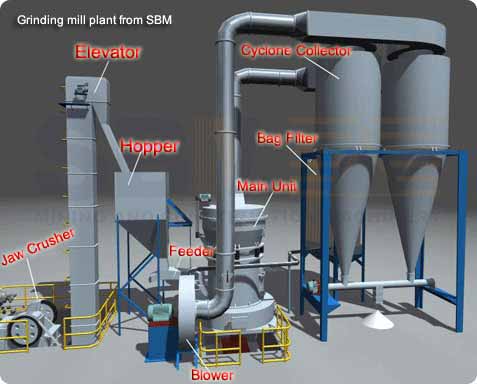 Quartz grinding plant is used for quartz powder manufacturing. In the quartz powder production line, grinding mill is the main quartz powder making machine used for Quartz Grits, Quartz Sand, Quartz Silica and Quartz Grains production. These quartz powder Sizes are 50 mesh, 100 mesh, 200 mesh, 325 mesh, 50 to 122 microns.
Quartz powder grinding process: The quartz stones are first put into crushing machine for crushing into small grains, then the belt conveyor transfers the elementary products to the secondary-crushing machine for secondary crush. The crushed quartz grains will be separated by the vibrating screen. The parts satisfying the standard of the Vertical Shaft Impact Crusher will be conveyed to the sand-making machine and the other parts will return to the secondary-crushing machine. The quartz sand enter into grinding unit for powder production through air classifier to collect the quartz powder.
Related Products