Sand making in India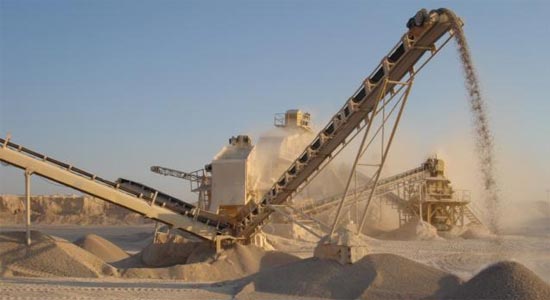 In the artificial sand plant of India, sand making machines mainly include vibrating feeder, stone crusher, vibrating screen and sand washing machine. These machines are made up the complete artificial sand plant with belt conveyor.
Sand making machine in India
Sand crusher in India
Sand crusher is the main sand making machine used for crushing stone, rocks, silica, quartz into small pieces for sand production. SBM can offer jaw crusher, impact crusher, cone crusher and VSI stone crusher for sand making business.
The VSI series Vertical Shaft Impact Crusher is a highly efficient sand crushing machine with "stone to stone" crushing. It can crush a variety of rocks, gravel, and river pebbles into various, uniformly sized building sand with a high compression strength—greater than natural sand. For chemical Industry and Cement Industry, SBM VSI crusher can provide fine feed to grinding ball mill so smaller grinding mill can achieve the capacity required and increase mill liner life.
Sand washing machine in India
Sand washing machine is mainly used to clean out the clay and dirt. It is water washing style equipment to be matched with the sand making machine and can reduce the dust and stone powder which mixes with the final sand, so sand washing machine can improve the quality of the sand. Sand washer is mainly used in building site, gravel plant, concrete dam building site of hydropower station, etc.
Sand screening machine in India
We manufacture two variants of Sand Screening Machine namely rotary sand screening machine and vibratory sand screening machine. vibratory sand screening machine is widely appreciated for compact design and perfect screening of material. Rotary vibrator machine possess manual as well as electrical operated operations combined with electrical operated power control.
Artificial sand plant in India
SBM sand making machines are widely used in stone quarry in India. One sand making unit is located in the Thasra Taluka of Kheda district in Gujarat state. The raw material is Black Trap stone from the river bed of Mahi river. The SBM sand crusher is installed in closed circuit with a screen to crush minus 25mm material, giving twoproducts; 12 - 4.75mm and 4.75 - 0 mm. The artificial sand plant has a capacity of 30-35 tph of sand and 15-20 tph of minus 12mm aggregate.
SBM is a famous sand making machine manufacturer in China, and offer types of crusher, sand screening machine, sand washing machine, vibrating feeder, and belt conveyor for artificial sand making plant in India. SBM also design the sand making process and plant according to the requirements of sand business.
Contact E-mail: [email protected]