SBM Cone crusher in India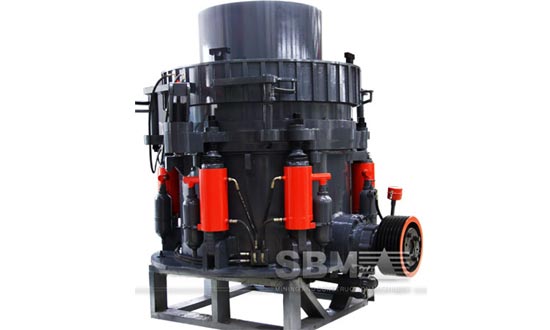 Cone crusher plant is widely used in secondary or tertiary crushing process. It is a fine crushing machine used in building aggregates and sand gravel production line.
Type of cone crusher
SBM is a famous cone crusher plant manufacturer in China, and offer types of cone crusher plants for sale for stone quarry and mine ore mining plant.
Spring cone crusher in India
Spring cone crusher is the early cone crusher, and is widely used in secondary crushing process. This crusher produces higher reduction ratios of up to 18. A uniform product size and good shape is ensured because of the long parallel gap before aperture. The stroke is large and the speed of rotation is 200 - 300 rpm, which ensures a cubical shape to the product. The shallow cone crushers are mainly used for the fine crushing of hard and moderately hard materials.
CS cone crusher in India
CS cone crusher is the main fine crushing equipment in the stone quarry plant. CS Cone Crushers are proven in various secondary and tertiary crushing applications, including limestone, abrasive quarry rocks, granite, basalt, quartzite, river gravel, slag, silica sand, cement clinker, coral and glass. With Advanced Crushing Technology, CS cone crusher gives customers high performance crushing capable of handling sand and gravel, shot rock and recycled materials.
Mobile cone crusher plant in India
Mobile cone crusher plant is the complete stone crushing unit with vibrating feeder, cone crusher, screen and belt conveyor. It features Large capacity, True portability - move entire system in one day, High efficiency, Extreme ruggedness, Outstanding reliability, Low maintenance, Flexible capabilities.
Hydraulic cone crusher in India
Hydraulic cone crusher is the cone crusher with hydraulic system. Hydraulic tramp iron release system means less downtime. Advanced head and crushing chamber design results in more throughput, better particle shape, and fewer hang-ups due to slabby material. Hydraulic cone crushers are designed for efficient application of crushing in mining industry, for efficient down sizing of various types of ores, prior to grinding operation and for efficient recovery of various minerals, as well as various quarry, aggregate and construction applications.
Cone crusher plant for stone crushing system
SBM supplies a wide range of Cone Crushers, for various secondary and tertiary crushing applications, therefore to insure the best and most feasible Cone Crusher type, fit for different plant configurations, designed for the most efficient and economical production and rock down sizing application. SBM Cone Crushers are supplied in four general categories, designed for various types of secondary or tertiary applications, both for closed circuit and open circuit configuration:
Coarse type application.
Fine or medium type crushing.
Short head design.
Super short head for fine crushing application.
Application
Lime
Recycling
Contract crushing
Hire (including short term hire while owner's equipment is repaired)
Quarrying
Contact E-mail: [email protected]