SBM Jaw crusher in India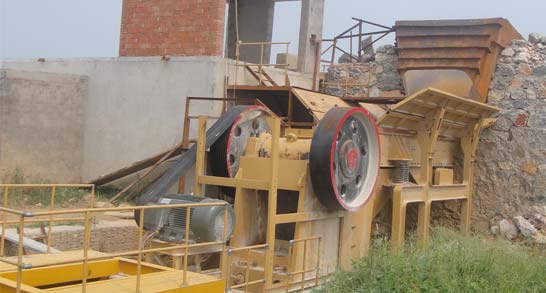 Jaw crusher is the primary crushing machine widely used in coarse crushing plant. In India, jaw crusher is used to crush stone, coal and concrete into small pieces for best application.
Type of jaw crusher in India
In the stone quarry plant, jaw crushers in India have several types. Mini jaw crusher, large jaw crusher and portable jaw crusher are widely used in coarse crushing process.
Mini jaw crusher in India
Mini jaw crusher is widely used in small scale stone quarry. The complete stone crushing plant has only one Jaw crusher used as primary or secondary crusher along with one or maximum 2 screens with a production capacity ranging from 3 to 25 TPH.
These small jaw crushers crush the raw material generally from river beds, or small hillocks in the local region or at times they procure/purchase raw stones from mine owners in the vicinity. Such small crushers crush only a few truck loads (typically less than 2 to 10 truck loads per day).
Large jaw crusher in India
Large jaw crusher is used in the large scale stone crushing plant. This rock crushing unit, has two or more numbers each of primary, secondary & tertiary type crushers with at least 2 or more vibratory screens with mechanized loading, unloading conveying operation s and produces more than 100 TPH crushed stones.
Large stone quarry have their own open-cast mines adjacent or in close vicinity to the crusher site. Scheduled and frequent blasting are carried out. After blasting, the stones are excavated with the help of excavators and loaders and are loaded in to dumpers.
Portable jaw crusher in India
Portable jaw crusher is the convenient crushing unit used in mining site. It is designed for ease of travel and safe operation. Equipped with a Hydraulic Jaw Crusher and Grizzly Feeder, the portable jaw crusher plant is ideally suited for crushing hard quarried stone or demolition debris. It is a low profile, severe duty, high production portable crushing plant.
Jaw crusher manufacturer in India
SBM is jaw crusher manufacturer in China, and offer types of jaw crushers for sale for stone quarry in India. SBM engineers superior, portable primary jaw crushing plants, quality designed for compact road ability, easy transportability, and minimum set-up and tear-down time. Leading aggregate producers and underground mining operations count on SBM high capacity portable jaw plants day in day out to drastically reduce material preparation costs, achieve maximum productivity and operating economy for each application.
Contact E-mail: [email protected]