SBM Mobile crusher in India used for Crushing plant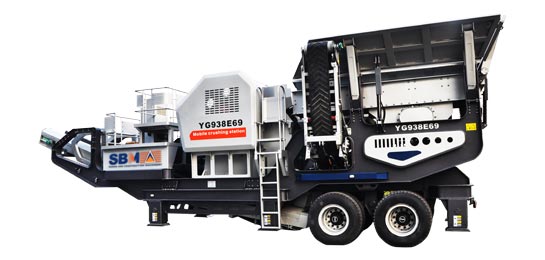 Mobile crusher is the most portable crushing machine used in rock quarrying. It is not limited to the location of crushing operation, and it reduces the cost of material transportation. The Mobile Crusher Plant can crush materials on site or somewhere near the work site.
Types of Mobile crusher in India
According to the different application, choose the different crusher to make up the stone crusher plant. SBM can offer track mounted mobile crusher and crawler type mobile crusher.
Mobile jaw crusher in India
Mobile jaw crusher is used as portable primary crusher machine in India. It has also expanded the crushing concept in the coarse and fine crushing area. And the design principle of mobile jaw crusher plant have taken the obstacles the complicated crushing plant bring to the customers as the primary solution plan, which have really provided the hardware operation project with the advantages of convenience, high-efficiency and low operation cost.
Mobile impact crusher
Mobile impact crusher is usually used in stone fine crushing plant in India. It unites impact crusher, belt conveyor, vibrating screen to make up the complete stone crushing plant. Mobile impact crusher can crush materials on site or work nearly without limits, which greatly benefits the clients by reducing high materials transportation cost.
Mobile cone crusher in India
The Mobile Cone Crushing Plant is widely used in the industry of mining, metallurgy, building materials, traffic, water conservancy facilities and so on. The cone crusher plant has the characteristics of high chassis, narrow body, and small turning radius, which makes it easier to run on the highway, even on uneven ground surfaces in crushing sites, thus saving time and money.
Crawler type mobile crusher in India
Crawler Mobile crusher is the Crushing and Screening Station is of high cost-performance ratio, and it is reliable in performance and reasonable in structure. Crawler mobile crushing & screening plant is widely used in road & bridge construction, metallurgy and sand gravel.
Mobile crusher for crushing plant in India
Mobile crusher is mainly used for crushing plant in coal crushing plant and sand gravel making.
Mobile crusher for coal
Mobile crusher is widely used for coal mining or coal processing in India. It can eliminate the obstacles of the crushing places and circumstances, and offer the high efficiency and low cost project plants for the clients.
Mobile crusher for sand gravel
Mobile crusher in India is used for crushing rocks, quartz, silica into small pieces for sand gravel production. It unites crushing and screening machine to make up the complete sand gravel making line.
Mobile crusher supplier in India
SBM is a mobile crusher plant manufacturer in China, and offer types of mobile crusher, like mobile jaw crusher, cone, impact and crawler type mobile crusher for sale in India. SBM can design the complete mobile crushing and screening station for coal crushing, sand gravel making plant.
Contact E-mail: [email protected]