Quarrying and mining industry in Pakistan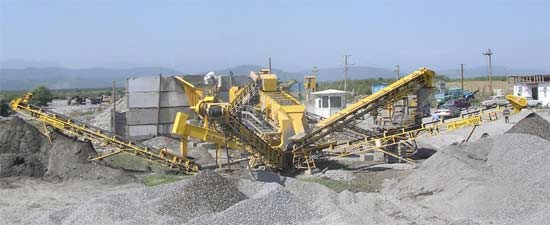 Quarrying and mining is the important industry for Pakistan. Pakistan is endowed with significant mineral resources and emerging as a very promising area for exploration of mineral deposits. There is vast potential for precious and dimension stones.
Quarry in Pakistan
Quarrying in Pakistan is used for producing building aggregates, sand gravel for Construction building. Construction materials were a leading industry for the Pakistan. There is an extensive range of non-fuel minerals. Deposits of limestone, marble, china clay, dolomite, gypsum, silica, ochre, sulfur, barytes, bauxite, iron ore, and emeralds are being exploited, but all on a very low scale.
In 2000, small quantities were produced of aragonite, barite, bauxite, bentonite, celestite, chalk, dolomite, emery, feldspar, fire clay, fluorspar, fuller's earth, crude gypsum, kaolin (china clay), limestone and other stone, crude magnesite, marble, nitrogen, in ammonia, phosphate rock, natural mineral pigments, rock and marine salt, bajir, common, and glass sand, caustic soda, soapstone, strontium minerals, native sulfur, and talc and related materials.
Mining in Pakistan
Mining plant is used to mine, extract mine from their ores. Pakistan has large base for industrial minerals. The discovery of coal deposits having over 175 billion tones of reserves at Thar in the Sindh province has given an impetus to develop it as an alternate source of energy. There is vast potential for precious and dimension stones.
Currently about 52 minerals are under exploitation although on small scale. Except for petroleum and natural gas, mineral reserves in Pakistan were meager and of poor quality. Chromite was one of the few valuable minerals available. The major production is of coal, rock salt and other industrial and construction minerals. The current contribution of mineral sector to the GDB is about 0.5% and likely to increase considerably on the development and commercial exploitation of Saindak & Reco Diq copper deposits, Duddar Zinc lead, Thar coal and Gemstone deposits.
Many of these deposits have the same general kinds of minerals: phlogopite, margarite and muscovite micas, zircon, spinel, magnesium tourmaline, pyrite, rutile and graphite, all of which are hosted in marbles.
Pakistan Steel, with an annual capacity of 1.1 million tons, is Pakistan's only integrated steel plant. It is located near Port Bin Qasim, 25 kilometers (15.5 miles) east of Karachi. The steel mill was constructed with technical assistance from the former Soviet Union, and currently employs about 20,000 workers. Iron ore, manganese, and cocking coal for the plant are all imported.
Quarrying and mining equipments supplier in Pakistan
Currently, most Pakistani miners use Chinese-made, gasoline-powered rock drills both on the surface and underground.
SBM is a famous quarry and mining equipments manufacturer in China, and offer types of crushers, vibrating feeders, screening and grinding mill for the quarry and mining plant in Pakistan. SBM has also offer machines and service for calcium carbonate powder plant, sand gravel production, iron ore mining, manganese ore mining and coal crushing plant in Pakistan.
Contact E-mail: [email protected]