Construction materials production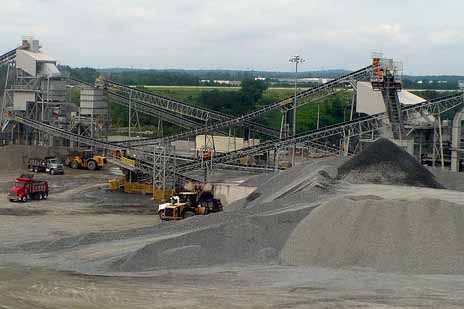 Construction materials prodution plant is used for producing building materials: aggregate, artificial sand used for bridge, road, airport, dam construction.
Quarry plant for construction
Quarry plant is used for crushing stones, rocks into small particle for aggregate and manufactured sand production.
Aggregate crushing plant for construction
Aggregate is the raw materials for construction building, cement, concrete industry. In stone quarry, aggregate crushing plant is used for crushing basalt, granite, limestone for aggregate production. The complete aggregate crushing plant can produce coarse and fine aggregate according to the size requirements.
Sand plant for construction
Manufactured sand making plant is used for producing artificial sand substitute of natural sand. Silica sand plant is the main sand making unit in stone quarry. It is mainly used for silica sand manufacturing with different size for construction building. The artificial sand plant is also designed to manufacture different grades of sand for the flat, clear, container glass industries, crystal and tableware industries, ceramics, paints and rubber industries, foundry industry and oil and gas extraction industry.
Construction Machinery
Construction machine is the equipment used for construction building materials production. In stone quarry, crusher, screen and belt conveyor, grinding mill are used for aggregate crushing and artificial sand making.
Crusher for construction
Crusher is the main construction machine, used for crushing stones, rocks into small pieces for aggregate and sand production. SBM can offer jaw crusher for primary crushing, impact crusher, cone crusher for fine crushing, VSI crusher for sand making. The stationary crushers must work quarry site for construction industry. Mobile crusher is the portable crushing plant putting crushing and screening process on wheels.
Screen for sieving
Screen is used as sand sieving equipment used for classification and grading. Vibrating screen is the main sand screening machine including double or three screen cloth. from sturdy feeders and scalpers to efficient inclined or horizontal classifying screens, SBM has the right solution. SBM also supply mobile screen designed for different crushing and screening processes guarantee suitability for a wide range of quarrying and contracting applications.
Mill for construction industry
Grinding mill is mainly used for fine aggregate and sand production. In the silica sand plant, ball mill is used for grinding crushed stones into smaller pieces for construction building. Hammermill sometimes is used in small scale aggregate crushing plant for producing fine aggregate.
SBM is construction and mining equipment manufacturer in China, and offer types of crushers, grinding mills, screen, and belt conveyor for construction building production in stone quarry plant. SBM also offer the complete plant and service for your construction industry.
Construction of quarry
Contact E-mail: [email protected]