Chrome cusher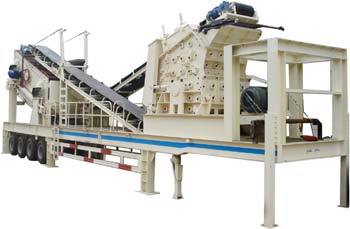 Chrome crusher is the essential chrome ore concentrate fabrik equipment used for crushing chrome ores into small particles for processing.
Type of chrome ore crushers
Jaw crusher for chrome ore crushing
Jaw crusher is used as primary crushing machine in chrome ore crusher plant. It is used to primary crush chrome ore into small pieces. SBM can offer small or large jaw crusher for mini chrome mining or mechanized chrome mining.
Hammer crusher for chrome ore processing plant
Hammer crusher is used as chrome crushing machine in chrome ore beneficiation plant. It is a small chrome crusher with capacity 5-50 t/h. The output crushed chrome ores is less than 15mm.
Impact crusher for chrome ore mining plant
Impact crusher is used as fine chrome crusher machine in chrome ore mining plant. It can crush small chrome ores into smaller grains even powder. Impact crusher with hydraulic system is perfect for secondary and teriary crushing in stationary, portable and mobile applications.
Mobile crusher for chrome ore crushing plant
Mobile crusher is a portable chrome crusher machine used in chrome ore beneficiation plant. It includes crushing and screening machine. Mobile crusher is the complete chrome crushing unit. SBM can help you develop In-Pit Crushing and Conveying solutions with Semi-Mobile or Mobile Crushers and Conveyors to reduce your dependence on haul trucks.
Vibrating screen
Vibrating screen is the sieving machine used for screening out the suitable crushed chrome ore grains. It is used in coarse and fine screening for scalping, separating and sizing aggregates, minerals and coal come in several different types and a wide range of sizes. SBM can offer stationary or mobile screening plant for stone quarry plant.
Chrome ore crusher manufacturer
Chrome crusher manufacturer SBM supplies types of chrome mining equipments such as chrome crushing machine, mobile chrome crusher, grinding mill for sale in South Africa, while Kazakhstan, India, Kazakhstan, Russia, and Turkey. From developing initial process flow sheets and plant layouts to furnishing complete chrome ore crushing systems, SBM is ready to help regardless of project size.
SBM spare no efforts to perfect our pre-sale, in-sale and after-sale services and focus on every detail from the design stage until the final installation. SBM has designed and built several crushing and screening plants for various mineral and coal projects.
Related Products
Related Knowledge
Contact E-mail: [email protected]