Chrome ore mining plant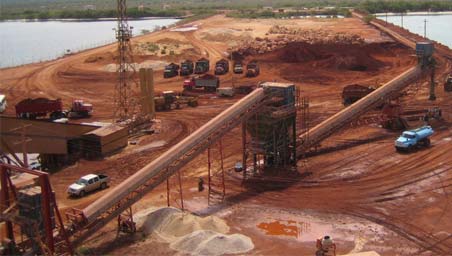 Chrome ore mining plant is used to mine chromium ores by both underground and surface mining techniques at Chromite deposits.
Chrome ore mining process
Underground, chrome ore mine relies mainly on room-and-pillar mining methods, typically with low-angle adits connecting to a horizontal access level. Thin seams limit the scope for mechanisation and blasting relies on drilling with hand-held pneumatic jackleg units.
The chrome ore is mined either up-dip or down-dip in rooms approximately 20m wide, with the roof supported by ore pillars. Scrapers haul chromite to ore passes that load trains on the haulage level. The trains load a conveyor in the hoisting adit. The dimensions in some chrome ore mining block have allowed to replace scrapers with load-haul-dump machines. The open cut mine uses 8t-capacity loading shovels and 40t-capacity trucks.
Much of the Chrome ore is rich enough to be used directly: for production of ferrochromium, a rich, lumpy ore containing more than 46 percent Cr2O3 and having a chromium-iron ratio greater than 2:1 is preferred, but ores with a lower ratio and as little as 40 percent Cr2O3 are also used. (Ores high in alumina are preferred for processing into refractory brick.) As finely divided ores, which do not smelt efficiently, come under greater exploitation, a number of processes are employed to agglomerate them for more satisfactory use in furnaces. Fines can be blended with fluxes and coke (the principal source of carbon) and then preheated or "prereduced" before being charged into an electric smelting furnace.
If pure chromium is desired, iron must be removed from the ore or from an intermediate ferrochromium product by hydrometallurgical techniques.
Chrome mine mining equipment suppliers
Chrome ore crusher is the crushing machine used for chrome ore into small grain. In the chrome ore mining plant, there are several types of crushers used. Jaw crusher is used in primary chrome ore crushing process. Impact crusher and cone crusher are used as fine crushing machine used in chrome mining plant.
Chrome ore milling machinery is used as grinding machine for chrome ore concentrate plant. In the chrome ore mining plant, chrome ore grinding mill is used to grind chrome ore into smaller size even powder. Ball mill, or rod mill can be used to grind chrome ores. After grinding process, chrome ore will undergo processing plant.
SBM is a famous chrome ore mining equipments manufacturer in China, and offer types of machines for sale used for chrome ore mining plant in South Africa, India, Kazakhstan, Zimbabwe, Finland, Iran, Brazil, USA, China, Oman, Pakistan, the Sudan, Malaysia, Turkey, Mozambique, Madagascar, Albania, Turkey, Philippines and New Caledonia. We also design chrome mining process for production at chrome ore mine.
Related Products
Related Knowledge
Contact E-mail: [email protected]