Iron ore grinding mill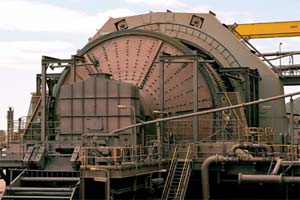 Iron ore grinding mill is used for grinding crushed iron ores into powder for smelting.
Iron ore milling
Iron ore milling operations are designed to produce uniform size particles by crushing, grinding, and wet or dry classification. Iron ore Milling is a multistaged process and may use dry or wet ore feed.
Typically, iron ore primary crushing and screening take place at the mine site. Primary crushing is accomplished by using gyratory and cone crushers. Primary crushing yields chunks of ore ranging in size from 6 to 10 inches. Oversize material is passed through additional crushers and classifiers to achieve the desired particle size. The iron ore is then crushed and sized at a secondary milling facility.
Secondary iron ore milling (comminution) further reduces particle size and prepares the ore for beneficiation processes that require finely ground iron ore feed. The iron ore resulting from this additional crushing is usually less than 1 inch (1/2 to 3/4 inches). Secondary iron ore crushing is accomplished by using standard cone crushers followed by short head cone crushers. Gyratory crushers may also be used.
Subsequent fine iron ore grinding further reduces the ore particles to the consistency of fine powder (325 mesh,0.0017 inches, 0.44 microns).
The choice of iron ore grinding circuit is based on the density and hardness of the ore to be ground. Although most taconite operations employ rod or ball mill for iron ore grinding, a few facilities use autogenous or semi-autogenous iron ore grinding systems. Autogenous iron re grinding uses coarse pieces of the ore itself as the grinding media in the iron ore mill. Semi-autogenous iron ore grinding operations use metallic balls or rods to supplement the grinding action of the iron ore pieces. Autogenous iron ore grinding is best suited to weakly cemented ores containing some hard material (e.g., labrador specularite). The benefit of autogenous grinding is that it is less labor- and capital-intensive. Semi-autogenous iron ore grinding eliminates the need for a secondary crushing circuit. Rod and ball wear, the principal maintenance cost of traditional grinders, is also eliminated with this method.
Iron ore classification
Between each iron ore grinding unit, operation hydrocyclones are used to classify coarse and fine iron ore particles. Coarse particles are returned to the iron ore grinding mill for further size reduction. Milled ore in the form of a slurry is pumped to the next beneficiation step. If the iron ore being milled is destined for flotation activities, chemical reagents used during the process may be added to the slurry at this time. To obtain a uniform product, many operations blend ores of several different grades, compositions, and sizes. The mixing of ore materials is typically accomplished through selective mining and hauling of iron ore
Iron ore grinding mill manufacturer
SBM is the professional iron ore grinding mill manufacturer in China, and offer crushers and grinding mills for sale used in iron ore milling plant. SBM also design the complete iron ore milling plant with crshing, grinding and classification for iron ore deposits mining in China, Brazil, Australia, Russia, USA, India, Ukraine, Canada, Sweden, Kazakhstan, Mauritania, Mexico, Ethiopia, Malaysia, Mongolia, Philippines, Egypt, Sri Lanka, UAE, Liberia, Nigeria, Guinea, Angola, Indonesia, Iran, Zimbabwe, Pakistan, South Africa, Saudi Arabia, Uganda, Colombia and Peru.
Iron ore milling machine