Iron ore processing plant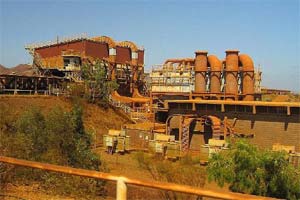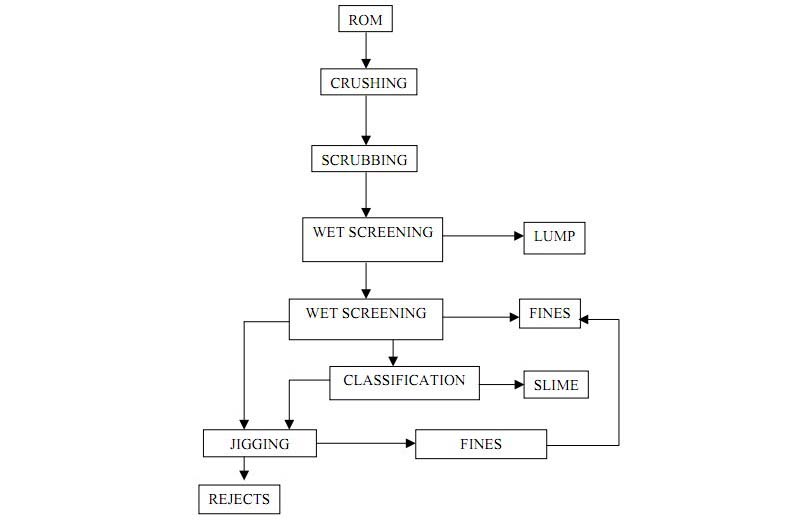 iron ore processing plant is used to produce iron ore in the form of Sinter grade fines of -10 mm size with Iron content of more 62%. The ore being generally low grade (59% - 60%) has to go through iron ore processing and beneficiation to meet the requirements of buyers.
Iron ore processing flow chart
The iron ore processing flow chart depends on the type of ROM (run of mine) ore feed and the optimum product. For obtaining iron ore concentrates from low grade ore various processing routes of gravity separation, flotation and magnetic separations are in practice through out the world.
In the iron ore processing plant, the low grade iron ore with oversize > 10 mm is crushed in crushing process stages in Jaw, cone, and roll crusher to size below 10 mm and screened or scrubbed wet. The undersize in the form of slurry, is fed into the classifier where the classifier sand is collected as part of the concentrate and the classifier overflow is treated in hydrocyclone. The under flow from the hydro cyclone constitutes the other part of the concentrate. The overflow from the hydrocyclone is the tailing's rejects of the process. The oversize from screen scrubber can be treated as concentrate provided quality of the combined concentrate suits the overall grade. On the other hand, it can be ground wet in a ball mill or rod mill and treated again in the hydrocyclone. Ore from iron ore processing plant at mines is transported by 10 ton tippers to river jetties using public roads, for loading in to barges.
Iron ore processing equipment
The beneficiation equipments used in the major iron ore processing plants are given below.
The conveyor belt systems is the transport machine used in the iron ore processing plant. In opencast iron ore mines, the belt conveyor systems are becoming popular especially in large open pits of more than 100 m deep.
In pit primary ore crushing machine and its transportation by off-highway trucks conveyors are now very common in many iron ore mines.
Jaw crushers and cone crushers are used in crushing process of iron ore processing plant and conveyor system feeds iron ore at a secondary crushing and preparation plant for further treatment while rock is transferred into railway transport units with the purpose of delivering it to outside dump sites. All these methods together have resulted in cutting 20 - 30 percent operating cost for rock mass transportation from deep pits, reduction in ore mining cost by 10 - 15 percent and improved ecological conditions.
Portable crushing and transferring plants is the common iron ore processing equipment in beneficiation plant. With up to 2,000 tonnes per hour capacity as well as high angle belt conveyors, iron ore portable crushing plants are now available. The uses of portable units have provided reduced construction activities and stone drivage.
Small capacity crushers like jaw crusher is widely used in Small scale iron ore processing plant. Large capacity crushers with improved reduction ratio are widely used in iron ore mine operations like gyratory and cone crushers.
Since steel plants are switching over to sinter, iron ore fines are now finding market and full recovery of these fines, classifiers, hydro cyclones and filters are increasingly used.
SBM is a famous iron ore processing equipment manufacturer in China, and offer crusher, screen, washing machine, grinding mill, magnetic separators and gravity separator for iron ore processing plant. SBM also design iron ore processing flow chart for iron ore mine in China, Brazil, Australia, Russia, USA, India, Ukraine, Canada, Sweden, Kazakhstan, Mauritania, Mexico, Ethiopia, Malaysia, Mongolia, Philippines, Egypt, Sri Lanka, UAE, Liberia, Nigeria, Guinea, Angola, Indonesia, Iran, Zimbabwe, Pakistan, South Africa, Saudi Arabia, Uganda, Colombia and Peru.