Coal screening
Coal screening process is the essential for preparation plant. It is used for size separation and classification.
Coal screening plant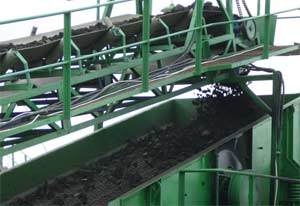 Coal screening plant is mainly used for screening process for sieving out three or four sizes. The coal screening process is usually carried out by rectangular vibrating screens with a mesh or punched plate screen deck. At sizes below 6 mm wet screening is used to increase the efficiency of the sizing operation and at sizes below 0.5 mm a static curved screen (sieve bend) is placed before the vibrating screen to improve efficiency.
High oversize product throughput capacity of 7 and 5 tph were achieved for efficient -150 and -45μm size separations, respectively.
Coal processing is as follows: After coal comes out of the ground, it typically goes on a conveyor belt to a preparation plant that is located at the mining site. The plant cleans and processes coal to remove dirt, rock, ash, sulfur, increasing the heating value of the coal.
Coal is sized before and after the beneficiation (cleaning) process. Different cleaning processes are used on different sizes of coal, so that raw coal on entering the coal preparation plant will be screened (sieved) into three or four sizes which then go through to the appropriate cleaning process.
Coal screening machine
Coal screening machine is the main equipment used for coal screening plant. SBM can offer vibrating screen and mobile screening plant for sale for coal screening plant.
Vibrating screen for coal
Vibrating screen is main coal screen machine. Two motors are fixed on the both side of screening box to corporate by the contrary direction. In the process of rotating, the eccentric blocks of motor will emerge a kind of centrifugal force, which can make the machine run by linear direction. Then the material on the mesh will be vibrated –forward and screened. By choosing the suitable mesh, the screening target is realized. It is suitable for screening all of dry material from 0.074 to 20 mm.
Mobile screening plant
Mobile screening equipment is a new coal screening machine. It is a portable vibrating screen with movable type, short construction period, put into use soon, adaptable, device optimize. SBM can offer rubber-tyred and crawler type mobile screening machine for sale for coal screening plant.
SBM coal screening machines are a reliable, cost-effective alternative to traditional coal screening products such as wire cloth and profile wire. SBM offer the whole coal screening plant for sale in Indonesia, South Africa, USA and India. By providing you with a wide range of modular screening products and systems (in various designs and sizes), we can help you increase your material recovery, reduce maintenance needs, and minimize your overall costs.
Coal Processing