Aggregate production plant in Philippines
Aggregate production plant is used for coarse, fine aggregate manufacturing in quarry plant of the Philippines. These concrete aggregate is for construction building.
Aggregate production in quarry plant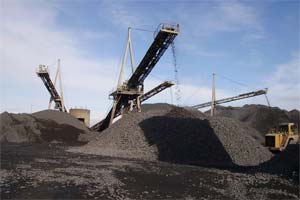 In the Philippines, aggregate production plant is used for crushing basalt, granite, limestone, other rocks into small size. According to the requirements of size, vibrating screen sieve out the coarse and fine aggregates. These aggregates, sand gravel are mainly used for concrete, construction building. Aggregates are a combination of crushed rock and sand and gravel which are also used to make value-added products such as lime, asphalt, concrete and mortar.
Most materials for aggregate production come from bedrock or unconsolidated deposits. The vast majority of materials used in the mineral aggregate industry are obtained from surface-mined stone quarries or from sand and gravel pits.
Aggregate production process
Aggregate production process includes from extraction through processing. Extraction is the first step including stripping, drilling and blasting, shot rock or gravel bank. The first step of processing after the extraction from quarry or pit is crushing. It is most operations for reduction and sizing. Some operations, however, provide a step prior to crushing called scalping used to divert fines at a jaw primary crusher in order to improve crusher efficiency.
Crushing process includes primary crushing, secondary crushing and tertiary crushing. In this process, log washer, heavy media separator, and attrition mill are used to ensure quality of aggregates. Screening is another technique to control both quality and gradation of the aggregate product. Screening may be done wet or dry, depending on the type of aggregate being processed and the degree of consistency required for each product.
Equipment for aggregate production
In the whole aggregate production plant, feeder, belt conveyor is used for Extraction and Scalping. Crusher is mainly used in crushing process, washing machine is used for washing, screen is used for screening process.
Aggregate crusher
Aggregate crusher is the main crushing machine. Jaw or a gyratory crusher is used in aggregate primary crushing process for size reduction. In some operations impact crushers are used for primary crushing, but they may have a slightly higher cost per ton, but it may upgrade poor-quality aggregate and increase separation, such as removal of rebar from concrete in recycling operations.
Cone and roll crusher are used in the final steps in reducing the material to a desired product size. These crushers also are sometimes used as primary crushers for fine-grained gravel deposits. Impact crushers may be used as primary, secondary, or tertiary crushers. Despite having a somewhat higher operating cost than other crushers, they tend to produce a more uniform particle shape.
Aggregate screening machine
The coarse, fine aggregate may be screened out in screening machine according to product size. The rinse screen is commonly used to rinse away the clay and deleterious fines. Vibrating screen with double-deck or triple-deck screen cloth is used for well-graded products.
SBM is a aggregate production equipment supplier in Philippines, and offer types of jaw, cone, impact crusher, screen, washing machine for aggregate production plant in Philippines, India, Ghana, Egypt, Malaysia, Saudi Arabia, Kenya.