Artificial sand washing machine in India used for washing plant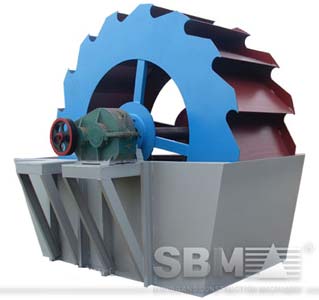 Sand washing machine is used for clean artificial sand and silica sand in India together with crushers, belt conveyors, and vibrating screen.
Artificial sand washing machine in India
SBM is a famous sand washing machine supplier in India, and offer wheel, spiral sand washing plant for sale.
Wheel sand washing machine is used for washing and drying building material like sand gravel, aggregates. It is mainly used for washing of fine-grained and coarse-grained materials. It drives the impeller in the water groove to move like a circle transmitted by electric motor and decelerator, and then mixes, overturns, cleans and discharges the sand or slag pellets in the water groove.
Spiral sand washing machine is a kind of cleaning equipment for sand and slag pellets, used in quarry, minerals, building materials, and cement mixture station. It can separate the stone powder and soil in the sand. The sand and crushed stone enters the tank washer through the feedertrough, driven by the impeller they roll and grind mutually. Thus completes the cleaning action.
SBM sand washing machine features: Water saving, Big treatment amounts, Small loss of sand during the process of washing, and No pollution.
Sand washing plant in India
The whole sand washing plant includes stone crushers, vibrating screen, feeder and belt conveyor, whose capacity is about 10 t/h – 1000 tons/h. It can effectively remove minus 63 micron material from the washed sand product.
Our whole sea sand washing plant has been designed. It is used for removing salt and clay powder included in the sea sands by washing them with water, and a separation line separating sands by their sizes. The vibrating feeder is installed in the sand line.
SBM also offer mobile sand washing plant for sale with best cost in India, Zimbabwe, Ghana, Saudi Arabia and South Africa. It is used for remove stone powder and soil included in the aggregates after crushing line. a water treatment line purifying slurry-included waste water generated from the sand line for reuse.
SBM sand washing system has been applied to replace traditional sand washing technology such as bucket wheels or screw classifiers in the stone quarrying and mine mining industry.
Related Machine