Coal processing plant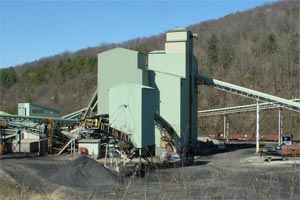 Coal processing plant used for crushing, washing coal into suitable size for powder station. It is the complete process of sizing, handling and washing of the run-of-mine coal.
Run Of Mine (ROM) coal from the Mining Operations is processed at the Coal Handling and Preparation Plant, and is turned into a saleable clean coal product of consistent size and quality specified by the consumer. The end use of the coal falls into the following general categories:
• Electricity generation
• Iron and steel making
• metallurgical Industry
• Heating
• fuel in dry kilns for the manufacture of cement
Coal processing flow diagram
At this coal processing plant, all feed coal (ROM) is crushed to -2" before entering the plant circuits. The 2" x 10 mesh coal is screened and goes to the primary dense medium cyclone circuit. The 2" x 10 mesh coking coal is recovered from the refuse here. The middlings (-10 mesh x 60 mesh) are processed in the Secondary Dense Medium Cyclone Circuit to recover the coal here, this produces a higher ash coal and is used as steam coal. The coking coal product conveyor has an intermediate screen that enables material to be diverted in varying proportions to steam coal if necessary to enhance the coking properties.
The -10 mesh coal is deslimed at 100 mesh and then sized at 10 mesh x 100 mesh is processed in the spiral circuit to produce coking coal. The -100 mesh slimes and -60 mesh coal is then processed in the flotation circuit to produce coking coal.
Coal processing machine
The complete coal processing plant includes crushing, washing, screening process. As a coal processing machine manufacturer in China, SBM crusher offer types of crushers, washing machine and vibrating screen coal processing plant in Indonesia, India, Malaysia, Russia, Canada, South Africa.
Crushing and Breaking machine
Run-of-mine coal mined from the pit needs to be crushed to an acceptable top size for treatment in the processing plant. Typical crushing and breaking devices are:
• Feeder breakers: A rotation drum fitted with picks that fracture the coal. Feeder breakers are commonly used underground, however, there are some in use on surface in the coal preparation circuit.
• Rotary breakers: The breaker circuit of an outer fixed shell with an inner rotating drum fitted with perforated plates. The softer coal breaks and passes through the perforations while the harder rock is transported to the exit. The rotary breaker achieves two functions, size reduction and beneficiation by removal of rock.
• Roll crushers: A common form of crusher is the two stage or quad roll crusher whereby the product from the first twin roll crusher falls into the second twin roll crusher set at a smaller aperture, with the result that a large-scale reduction can be achieved in one machine. A typical application would be crushing run-of-mine material down to 50 mm.
SBM is a belt conveyor supplier in China, and offer types of Grizzle Hopper, Vibrating Feeders, Conveyor Belts, Coal Crushers for coal handling plant in Indonesia, India, South Africa, Canada, Australia. We offer a range of coal handling plant that are fabricated using the best quality components. These systems are used to handling or refueling operations in railways, aircraft and other industries.
Washing machine
Washing machine is mainly used in coal preparation plant consisting of fully operational washing. Clean coal should be washed with water to sulfur, to impurities and other industrial processes, in order to achieve the criteria used coke. Jig coal washing machine including Material Bin, Belt Conveyor, Vibrating Screen, Coal Washing.
Vibrating screen
Vibrating screen is mainly used for screening out the suitable size of coal. Usually it is used with coal wash plant. vibrator is installed on the sideboard of the screening box, and is driven by the motor to rotate through the coupling, which will make a centrifugal inertial force to make the vibration of the screen.
Coal Processing