Mobile track impact crusher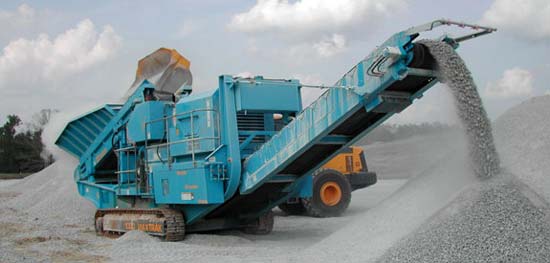 Mobile track impact crusher is a portable crusher plant including crushing and screening process.
Track impact crusher is a high production, track-mounted, primary impact crushing plant. It is ideal for nonabrasive quarried stone or recycled concrete operations. Impactor crush hard stone delivering up to 800 tph.
SBM mobile track impact crusher delivers both high inertia crushing and rugged dependability. The machine provides operators high material reductions ratios and produces a consistent product shape. Hydraulic overload relief protects the crusher from damage. Common mono-block aprons and only two shapes of side liners reduce parts inventory and maintenance hours.
Track impact crusher for aggregate production
Tracked impact crusher has been designed for quarrying, mining, recycling and demolition applications, specifically designed for the serious aggregate producer.
In the stone quarry plant, mobile track impact crusher is mainly used for crushing limestone, marble, quartz and other hard stones into small pieces for aggregate and sand manufacturing. It provides the versatility of a crushing and screening plant on one machine.
In the aggregate production plant, mobile track impact crusher usually has double deck screen for sizing and recirculating oversize material back to the crushing chamber. The sizing screen can be quickly removed for applications that do not require resizing or recirculating of materials further processing.
Crusher manufacturer: SBM
This portable impact crusher plant can be operated within the job site maintaining crushing near the source, thus, can eliminate haul trucks and reduce operating costs. Mobile impact crusher manufacturer: SBM can offer spare parts and installation, maintenance service for the crushing station.
SBM products include Primary Jaw crusher, Secondary Impact Crushers, Vibrating Grizzly Feeders, screen and a complete line. SBM crushing equipment is available in stationary, skid-mounted, wheeled portable, or track-mounted configurations. Since its formation, SBM has continuously designed and manufactured quality aggregate processing equipment.
Type of impact crusher