VSI crusher for artificial sand making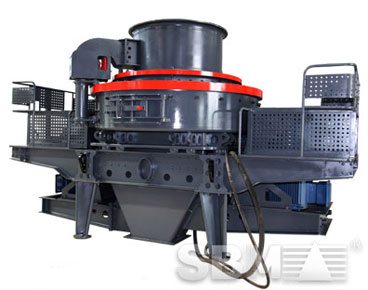 VSI crusher is used as sand making machine in artificial sand plant for crushing rocks, granite.
Type of VSI crusher in India
Vertical shaft impact (VSI) crusher is mainly used in sand making process, it is ideal to use as third and fourth stage crushers in quarrying, mining, recycling, infrastructure and construction applications, particularly for the use of crushing aggregates.
As a VSI crusher manufacturer in China, SBM offer PCL, VSI and VSI5x type for sale. These cost effective, heavy duty crushers are designed to crush a wide range of rocks and minerals using rock-on-rock or rock-on-steel crushing principles. They cover product throughput from 30 - 600 tonnes/hour.
SBM VSI crusher can produce cubical shaped, high quality aggregate and sand that meets today's demanding specifications in contracting, civil engineering and construction projects. Mobile tracked VSI crusher offers significantly reduced maintenance and lower operating costs. Tungsten carbide tips ensure an even grain size and quality due to a solid design and a long lifetime.
VSI crusher for sand making in India
VSI crusher is designed for manufacturing "in spec", high-quality cubically shaped aggregates and sand, used as a third or fourth stage crusher. The unique crushing action provides low wear costs, superior products and high reduction ratios.
In India, VSI crusher are used to manufacture artificial sand, the alternative for river sand. Grit (Rubble less than 10 mm) is the product by stone crushers which can be economically converted as artificial sand.
The first is vertical shaft impact crushing where rock is fed onto a table type rotor which accelerates and then discharges the rock at high speed against steel anvils in the crushing chamber. The impact of the rock against the steel anvils induces fracture and breaks the rock. The second variation called vertical shaft autogenous (VSA) crushing, where rock is fed into a multi-port rotor which accelerates and then discharges the rock at high speed against a rock filled crushing chamber.
SBM can offer VSI crusher for sand making plant in South Africa, New Zealand, UK and Pakistan., and offer a comprehensive range of materials handling equipment including screening, washing, recycling, feeding, conveying and stockpiling solutions.
Related