Sand gravel washing machine in Egypt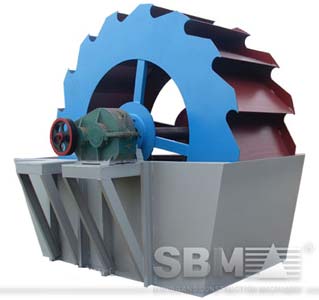 Sand gravel washing machine in Egypt is used in quarrying, recycling and mining industry.
Sand gravel washing machine
The complete sand gravel washing machine can process sand washed from 20 T/h up to 300 T/h in larger versions.
The sand gravel is Feed regulation by means of vibrating feeder. Separation and washing of the different grain size fractions in the screener with irrigation. Collection of gravels and other fractions, by means of belt conveyors or directly between walls under the screener. Washing and dewatering of the sand pulp and water which goes through the low mesh of the sizer. Collection of the drained sand by means of vibratory conveyor.
Sand gravel washing process
The whole washing process includes feeding, screening, washing and Stockpiling.
Feeding
The feed hopper is fitted with a belt feeder to ensure the most efficient transfer of material from the hopper to feed conveyor. The sand gravel feeding system can reduce blockages, the time spent on plant maintenance, and maximize plant production.
Screening
The screening machine is used to be as a rinsing screen in the whole sand washing plant. SBM screen rotate allowing easy operator access for replacement of screen media. This reduces plant maintenance time and allows for quick and easy changes to the screen configuration to allow for variations in final product requirements to be easily accommodated.
Washing
The sand washing process can insure to deliver high quality washed sand to the global construction market. SBM sand washing plant facilitates highly accurate separation of silts and clays from the final washed sand product. It features Maximum dewatering of your sand product, Maximum wear resistance, Efficient grading of your sand product, and Ease of maintenance.
Stockpiling
It is the final process in the whole sand washing plant through the inclusion of 3 or 4 integrated 9m stockpile conveyors. It is Easy, Safe Access for Operation & Maintenance, which minimizes time required for maintenance thus maximising the operational time of the plant.
SBM sand gravel washing plant is widely used in stone quarrying projects from the UK and Ireland to India, Middle East, Africa and North America. Our wish and yours is for a project that is delivered on time, on budget and performs to the highest possible standards.
Related Machine