Stone crusher in UK for gravel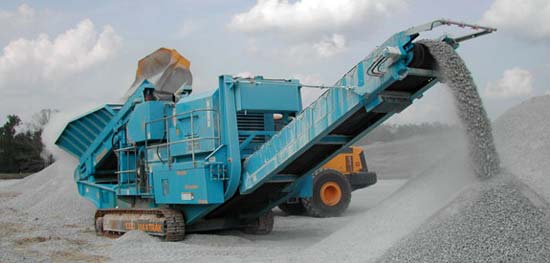 Stone crusher is used as rock crushing machine in quarry plant. In UK, it work with vibrating feeder, screen and belt conveyor to make up the complete crushing plant for gravel making.
SBM is a company of stone crusher manufacturer in China, and offer types of crushers: jaw crusher, cone crusher, roller crusher, VSI crusher and mobile crushing plant for sale for stone crushing plant in UK.
Jaw crusher for sale in UK
Jaw crusher is used as primary stone crusher machine in the quarrying and mining industry. A deeper crushing chamber provides better nip angle while reducing rebound, ensuring continuous crushing action with less abrasive wear. Longer throw provides sharp crushing action, leaving fewer slabs and slivers. Radial toggle action with a downward thrust force feeds material and ensures top production with less plugging. Reversible jaws provide longer jaw life, assure less downtime, and greater economy.
SBM offer stationary and mobile jaw crusher for sale in UK. Stationary jaw crusher includes PE and Europe jaw crusher with PE-150×250, PE-250×400 for small scale stone crushing plant, PE-1200×1500, PE-1000×1200 for large stone quarry plant. Mobile jaw crusher with belt conveyor and vibrating screen can make up the complete mobile crushing plant. It is a portable crushing unit for gravel, construction building waste.
Cone crusher for sale in UK
Cone crusher is fine crushing equipment used in sand gravel crushing plant. Cone Crusher is designed with a taper head for producing a more cubic product, and crushing stone at an increased capacity. Hydraulic clamping and relief system protect from crushing chamber overload. It produce a powerful crushing action, The fabricated counterbalanced rotary seal ring offers greater machine balance, resulting in smooth operation, while the non-contact seals reduce costly maintenance and minimize wear.
SBM supply spring, hcs90, CS, hp cone crusher for sale in UK for stone crushing plant. PY Spring cone crusher is the ultimate solution for the secondary crushing to achieve uniform product size of hard rocks, ores and minerals. HP cone crusher has 4 models in available, and each is built heavy for rugged durability and consistent low cost operation. CS cone crusher with Standard, Short Head type is used in secondary, tertiary and fine crushing stages.
Crusher in UK is mainly used in cement plant, gravel crushing and metal ore crushing plant.
Gravel crushing in UK
Crusher in gravel crushing plant is used for crushing stone, rocks, construction building waste into small pieces for sand gravel production. Crushing is the first step in converting shot rock into usable products. At some operations, all the crushing is accomplished in one step, by a primary crusher. At other operations, crushing is done in two or three steps, with a primary crusher that is followed by a secondary crusher, and sometimes a tertiary crusher.
Cement plant in UK
Crusher is used as cement crusher in Cement plant in UK used for crushing limestone, coal, gypsum into powder for cement clinker making. Raw material, of various sizes, is brought to the primary crusher by rear-dump haul units, or carried by a wheel front-end loader. Primary crushing reduces this run-of-mine rock to a more manageable size. The different types of primary crushers are: jaw crushers, gyratory crushers, impact crushers, and autogenous crushers.
Metal ore crushing in UK
In UK, crusher is also used in metal ore crushing process of beneficiation plant. Crushing is the important process for mine ore processing, smelting plant. Britain was the world's largest producer on non ferrous metal ores including tin, Copper, Lead, Zinc. Once the ore has been mined the lead has to be extracted, or smelted. Step one is to dress the ore, basically break it down to about pea size, then crush it to a powder. The powder is then mixed with water to separate the heavy ore from the lighter waste materials.
Quarry, mining in UK
Contact E-mail: [email protected]