Mobile cone crusher
Mobile cone crusher is the portable crushing plant to crush materials on site or somewhere near the work site in mining, building materials, quarry industry.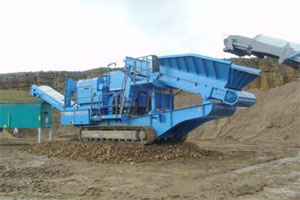 Mobile cone crusher is not limited to the location of crushing operation to reduce the cost of material transportation. It is renowned for their high throughput, big reduction and excellent product shape. Portable cone crusher range forms part of a comprehensive range of materials handling equipment including screening, washing, recycling, feeding, conveying and stockpiling solutions.
Tracked mobile cone crushers are suitable for secondary and tertiary crushing in direct feed applications. They are cost-effective as they save installation costs and time and offer quick and easy reconfiguration of the plant for changing production demands. Large mobile cone crusher is capable of upto 800 tph.
Mobile cone crusher for Aggregate
Mobile cone crusher has been designed for crushing stones, rocks into small pieces for aggregate production. It can provide an excellent reduction and product cubicity for the production of high quality aggregate and sub-base material. SBM Track mounted crushing plant features a re-circulating conveyor and a double deck screen to provide the complete crushing and screening process.
Mobile cone crusher for sand gravel
Mobile cone crusher is suitable for secondary and tertiary crushing in sand gravel production line. Hydraulic release capabilities ensure that any uncrushable material entering the chamber are safely discharged. Portable cone crusher has a high product yield of superior quality with desired product shape and size. It is the first cone crusher to be built with an innovative pre-screen module.
Mobile cone crusher for coal
Mobile cone crusher is widely used in coal crushing plant. With throughput capacities between 100tph to 300tph, it is built to increase machine throughput and effectively reduce wear costs with a long service life. Mobile cone crusher features an onboard recirculating system and a detachable sizing screen, and is well suited in today's dynamic crushing and screening environment.
SBM is mobile cone crusher manufacturer in China, and offer types of cone crushers for sale in India, USA, South Africa. These portable cone crusher is widely used in granite crusher plant for aggregate production, in quartz crushing for sand gravel making, in thermal power plant for coal crushing, in gold mine for mining.
Track mounted cone crusher ideal for crushing in the quarrying, mining and aggregate industries including coal, aggregate, sand, construction and demolition waste, mine ore, blasted rock and river gravel applications. It features an integrated pre-screen allowing fine material to swiftly by-pass the cone chamber thus increasing machine capacity and reducing wear costs.