Mobile rock crusher for quarry plant in USA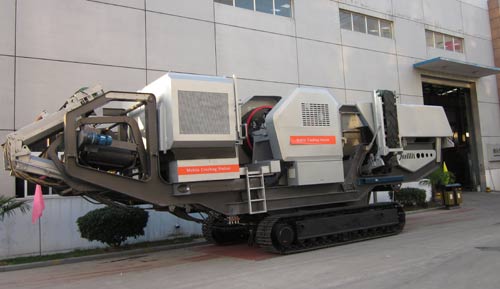 Mobile rock crusher in USA is mainly used for crushing granite, limestone into pieces for sand and aggregate production.
Mobile rock crusher in USA
Mobile rock crusher has been widely used in metallurgical, chemical, building materials, especially for the flow stone operation of highway, railway, water and electricity projects. It can be directly driven into the site, without transport, directly to obtain the required particle size.
SBM Mobile rock crusher offers you production capacity of 50 – 240 ton/h. It has advanced control systems considerably increasing its output capacity, making it easy to manage large workloads. The conveyor elevation system insures a high minimum ground clearance, which provides the crusher with outstanding maneuverability at any crushing site.
SBM, a mobile rock crusher supplier all over the world, manufactures machines for quarrying, mining, construction, demolition and recycling industries, provide efficient production, low operational costs and ease of maintenance.
Mobile rock crusher for quarry plant
Mobile rock crusher is used for gravel processing system. Because of use in artificial sand, aggregate production line, it can reduce excavation, construction, installation, demolition work , improve production efficiency and reduce operation cost.
Mobile sand plant
Mobile rock crusher is used as crushing machine in sand making plant. It crush common stone from mountains and pebbles from riverbed to make manufactured sands. The whole sand making production line consists of vibrating feeder, jaw crusher, VSI vertical shaft impact crusher, vibrating screen, sand-washing machine, belt conveyor, electric control system, etc.
Mobile limestone crusher
Mobile rock crusher is also used in limestone crushing plant. We design different production lines ranging 50 t/h to 500 t/h. the features of this line are fine shape final products, lower cost, large processing capacity and high capacity of ideal outputs, etc. Mobile limestone crusher plant features Maximum reliability, minimal maintenance, Ease of operation.
Mobile granite stone crusher
Mobile rock crusher can crush granite stones into sand gravel size. It can make up the whole production line with screen, feeder, and other crushing station. The complete stone crushing plant is suitable to crush the hard limestone, granite, basalt, gravel, slag, etc. Sizes of final products will be according to our customers' requirements.
Related