Sand washer machine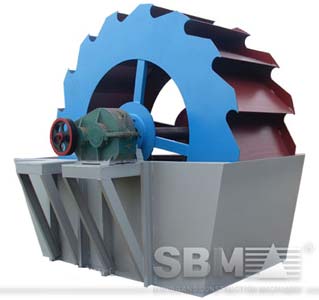 Sand washer is a washing machine widely used for manufacturing building aggregates, sand gravel in quarrying and mining business.
SBM is a famous sand washer machine manufacturer in China, and offer wheel, spiral or screw and mobile sand washer for sale for washing process in stone crushing and screening plant in India, UK, Saudi, Arabia, Nigeria, Egypt, South Africa, USA, Germany and Malaysia.
Wheel sand washer
Wheel sand washer is a High-efficient Sand Washing Machine, widely used for washing away the stone powder and impurity from sand in sand production line. It unit with crushers, feeder, screening machine and sand making machine to make up the complete sand making plant with capacity 40-60 TPH, 80-100 TPH, 150-160 TPH, 180-200 TPH, 600-700 TPH,4 00-500 TPH, 250-300 TPH.
SBM wheel sand washer machine features high efficiency, reasonable structure, high capacity, low consumption and easy maintenance. Compared with the spiral sand washing machine, the loss of medium and fine sand as well as powder is minimal. SBM wheel sand washer is mainly used in silica sand, quartz sand and artificial sand production line.
Spiral sand washer
Spiral sand washer is the screw sand washing machine, used for washing and selecting, classifying, and trash-extracting. The artificial sand enter the input access, then will be pushed towards to output access by rotating helical blades which driven by motor and speed reducer. Through pushing, blending and washing, to remove dust and impurity from material surface. The final product out through the discharge opening, mud and impurity will be discharged through overflow outlet.
SBM screw sand washer machine has three functions of washing, de-watering, classifying. It has Large process capacity, less power consumption, reasonable structure, convenient maintenance and Less loss during sand washing. SBM screw sand washer machine is mainly used for sand processing, like river sand and sea sand.
Mobile sand washer
Mobile sand washer is the portable sand washing plant, is widely used in crushing site. It features long service life and low maintenance cost. The components almost need not to replace, it reduces the damage rate of the bearing assembly greatly. Material classifying is realized by overflowing the non-needed fines, the controlling method is adjusting height of overflowing weir and adjusting speed of screw.
SBM sand making plant with washer machine can produce artificial sand for use in the manufacture of roofing tiles, concrete, road construction and various types of ground works like sports fields, playgrounds and golf courses.
Related Machine